Imprisoned rapist to be charged with 1998 killing of 13-year-old girl
A cold-case unit reexamined evidence and discovered a DNA match between Charles Holifield and evidence in the case
---
Associated Press
MONTEREY, Calif. — An imprisoned rapist will be charged with killing a 13-year-old California girl who vanished while walking her dog nearly two decades ago, a prosecutor announced Thursday.
Charles Holifield will be charged on April 14 with murder and kidnapping for purposes of sexual assault, Monterey County District Attorney Dean Flippo announced.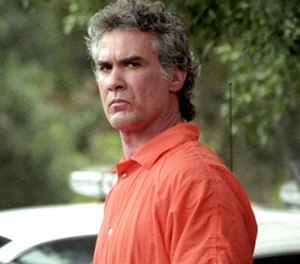 The murder charge will include special circumstances of kidnapping and committing lewd acts on a child, which could make him eligible for the death penalty if convicted.
Holifield, 56, is serving a life sentence for attempted kidnapping at Valley State Prison in Chowchilla. It may take several weeks to extradite him to face charges in Monterey County, Flippo said at a news conference.
Holifield is suspected of killing Christina Marie Williams, who vanished while walking her dog on June 12, 1998 in her Seaside neighborhood on what was the former Fort Ord Army base.
The dog, Greg, was found near home within the hour, his leash dragging.
A sweeping search for the 13-year-old began. Singer Mariah Carey and baseball legend Reggie Jackson make public pleas for anyone with information about the girl to come forward.
Seven months after she vanished, an ecological surveyor found Christina's scattered skeletal remains on a small University of California nature preserve three miles from the Williams home.
"I've been praying to God to bring back Christina," her mother, Alice Williams, said at the time. "Now I'm praying to God that whoever took our daughter will get caught. You know who you are."
No arrests were made, despite involvement by various law enforcement agencies and volunteers and a $100,000 reward offer by the FBI for information leading to a conviction.
Christina's death "really touched a raw nerve in this community," Flippo said.
Holifield, who had lived on the Monterey Peninsula, was considered a suspect almost from the beginning of the investigation but prosecutors lacked evidence to bring a case to trial, authorities said.
However, a cold-case unit reexamined evidence from 19 years of investigation and prosecutors now have a DNA match between Holifield and evidence in the case, Flippo said.
"There's strong DNA evidence," he said but declined to be specific.
"We feel that we are in a position now, ethically, to forward" with a prosecution, Flippo said
Holifield has two previous convictions for raping two teenage girls and is serving a "three strikes" life sentence for the attempted kidnapping of a woman in Marina.
That attempt took place in September 1998, three months after Christina disappeared.