Life sentence sought for suspect in Baltimore jail killing
Javarick Gantt, a deaf man who relied on sign language to communicate, was found dead inside his cell last October
---
By Lea Skene
Associated Press
BALTIMORE — Baltimore's new top prosecutor Ivan Bates announced Friday that he'll personally prosecute a defendant who was jailed on murder charges last year when he strangled his deaf cellmate to death, according to police.
The case has already raised serious questions about Baltimore's jail operations and its backlogged court system.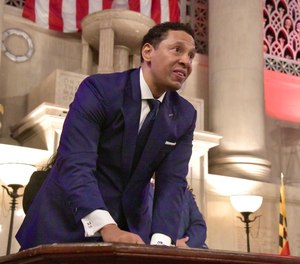 Javarick Gantt, a deaf man who relied on sign language to communicate, was found dead inside his cell in the Baltimore Central Booking and Intake Center the morning of Oct. 9.
Weeks later, authorities announced charges against his cellmate, Gordon Staron, 34, who had been locked up since September after his arrest in the deadly stabbing of Keith Bell, 63, near a Baltimore bus stop. Jail officials have refused to answer questions about why Staron was housed in a cell with Gantt, a disabled man facing relatively minor charges.
Bates held a news conference Friday to announce he entered his appearance in the case that morning in an effort to demonstrate his commitment to curbing rampant violence — following through on a campaign promise to spend more time in the courtroom than his predecessor. He said his office plans to seek life without parole sentences in both the murder cases against Staron.
Bates, who took office earlier this month, was elected last year after defeating then-incumbent Marilyn Mosby in a Democratic primary. Most recently a high-profile defense lawyer, Bates also served as a city prosecutor before running for state's attorney.
He's pledged to roll back some of Mosby's more progressive policies in an effort to quell violence in Baltimore, which recently recorded more than 300 annual homicides for the eighth year running.
"I want people to know, the reason I entered my appearance is because, at the end of the day, we have to do things differently in Baltimore City," he said. "I want the criminal element to know that I am truly on the other side, and I'm here to hold you accountable."
Gantt, 34, had been jailed since July while his cases crawled through a backlogged court system. His charges stemmed from a 2019 domestic dispute in which no one was seriously injured. But largely because he missed court dates and probation check-ins, he was ordered held without bail and remained behind bars awaiting a late October trial date.
Gantt was frequently the target of bullies and was just over 5 feet tall at about 105 pounds (48 kilograms). Sign language was his first language; his reading and writing skills were limited. Loved ones said he had recently expressed safety concerns about his cellmate, saying he would prefer to be housed alone.
Their cell door had been locked for nearly 12 hours when Gantt was found dead around 6 a.m., court records show.
"Witnesses … reported hearing deaf-mute Detainee Gantt making noises and banging on his cell door" during the night, according to charging documents.
Bates acknowledged potential systemic issues that arose in the case but declined to comment further, saying his office is focused on the criminal investigation.
Bates said Staron's attorney recently requested a psychiatric evaluation to determine whether he's mentally competent to participate in his defense. His next court appearance is scheduled for April.
Bates, who hasn't prosecuted a homicide case since 2001, said it's "like riding a bike."
"I'm a trial lawyer, first and foremost," he said. "I think it's important that the prosecutors in this office recognize that … I'm here to jump on the front line when I can."