NY assemblywoman angered by Joyce Mitchell's plea deal
"It does not seem to me that justice has been served," Assemblywoman Janet Duprey said
---
By Joe LoTemplio
Press-Republican
PLATTSBURGH — Assemblywoman Janet Duprey is not a fan of the plea agreement for former prison employee Joyce Mitchell.
"It does not seem to me that justice has been served," Duprey (R-Peru) said in a statement Wednesday.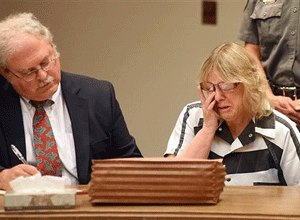 "The majority of public commentary shows outrage at this process that certainly appears to favor the criminal instead of serving the public good."
AVOIDED OTHER CHARGES
Mitchell pleaded guilty Tuesday to helping convicted murderers, Richard Matt and David Sweat, escape from Clinton Correctional Facility in Dannemora in June.
A civilian supervisor in the prison tailor shop where Matt and Sweat were employed, she brought them tools they used to cut holes in their cell walls.
She was also supposed to be the getaway driver for the pair but backed out at the last minute.
Matt and Sweat were on the run for 23 days before Matt was shot and killed on June 26 in the Town of Malone, and Sweat was shot and captured two days later in Constable.
Mitchell's plea agreement was finalized in Clinton County Court on Tuesday. She faces 2 1/3 to 7 years in prison, along with a concurrent year in County Jail. 
Her sentencing will be Sept. 28.
The agreement included her not facing other charges that were possible, including conspiracy to murder her husband, Lyle, and sexual assault or rape related to Matt and Sweat.
'IRREPARABLE HARM'
Duprey said Mitchell's criminal actions caused irreparable harm to the entire state corrections system.
"Her infatuation with two murderers placed hundreds of law enforcement personnel in extreme danger, created physical and emotional stress for thousands of North Country residents in Clinton and Franklin counties and cost the hardworking taxpayers of our state millions of dollars for 23 days. 
"Perhaps some kind of reasonable explanation for this plea deal is forthcoming, but right now, I cannot see how this is any form of proper justice," she said.
The State Inspector General's Office has been conducting an investigation into the escape at Clinton Correctional since mid June.
"The quick action to allow this guilty person to enter into a plea deal should encourage the Inspector General's Office to finalize its investigation and issue results," Duprey said.
"It's time to submit recommendations to hold all people responsible for this escape accountable and punish them appropriately while vindicating the correction officers who were not involved and allow them to go back to work."
'TURNED UPSIDE DOWN'
A dozen correction officers and administrators, including Clinton Superintendent Steve Racette, were placed on administrative leave as the result of the investigation.
"Several correction officers are still on administrative leave, locked out of the prison without any opportunity for a hearing, even though there is a widespread feeling that the majority of them were not involved in any way with the crime," Duprey said.
"Their professional and personal lives have been turned upside down because of the criminal actions of Joyce Mitchell. This entire episode has placed additional stress on correction officers who already work in an environment of tension and anxiety.
'PROFESSIONALS'
"I'm very impressed with the great improvement in morale I observed on my last tour," Duprey continued, "but I also realize the uncertainty of the fates of their innocent coworkers makes a tough job even harder. 
"Short staffing still requires officers to work many hours of overtime, which has a serious effect on family life for the officers, their spouses and children."
Duprey said the majority of correction officers and civilian employees do their jobs incredibly well every day in a difficult setting.
"They are professionals who take pride in serving with dignity and ensuring the safety of our communities," she said.
"They are not allowed to make any public comments about prison issues. As I've done throughout my career, I will be the voice for those who are not given the opportunity to speak for themselves. 
"Let's give them the courtesy of justice and closure, too."
FULL COOPERATION
Clinton County District Attorney Andrew Wylie said Mitchell's plea agreement was offered after consulting with State Police and a review of the evidence.
The deal also includes the Dickinson Center woman's full cooperation with the Inspector General's Office's probe and fines totaling $6,000.
Wylie said Tuesday that allegations of other actions Mitchell took or participated in during her employment at Clinton Correctional could be raised through that investigation.
So additional charges could be pursued, he said.
DEMAGOGUERY
In response to Duprey's comments, Wylie said Duprey was being political.
"I have rarely, if ever, seen the type of political demagoguery as I have from today's press release," he said in a statement Wednesday night.
"Joyce Mitchell waived her right to a grand jury proceeding, and plead guilty as charged to each count and is scheduled to be sentenced to the maximum sentence allowable by law in New York State," he said.
Wylie said Duprey has not spoken to him once about the case.
"She, based upon her reading of blogs and letters to the editor, has already determined that Joyce Mitchell should be prosecuted for unnamed crimes which she fails to cite," he said.
"The irony of a member of one of the most criticized legislative bodies in America, lecturing those who worked tirelessly to bring justice to those involved, is astonishing and insulting to each and every law enforcement member involved."
Wylie said obtaining the plea has saved the county thousands of dollars in expenses for a grand jury proceeding, an extensive trial and appeal.
"I have no agenda here, only the desire to represent the people that elected me to do my job," he said.
Wylie invited Duprey to sit down with him and his fellow district attorneys to discuss issues related to the safety of public servants and all New Yorkers.
"She may learn that we, as prosecutors, rarely use the words like 'closure' because of the countless number of victims we have served, there almost never is closure, only a sense of justice delivered by prosecutors that fight for you, not politicians who try to exploit you."
'UNCONSCIONABLE'
As per state law, Mitchell will still be able to collect her State Retirement pension.
That has Duprey's colleague, Assembly Minority Leader Brian Kolb (R-Canandaigua) irate.
"Joyce Mitchell's retirement will be paid for by the taxpayers of New York state, and she can thank Assembly Democrats for their ineptitude as she cashes her pension checks," he said in a statement Wednesday.
Kolb said Assembly Democrats walked away from an agreed-upon pension forfeiture bill that had passed the Senate — it had targeted public employees found guilty of abusing their positions.
He said Mitchell's actions in her position at the prison put an entire community in danger.
"The fact that she is eligible to receive a public pension is unconscionable, and insults every taxpayer in this state," Kolb said.