Ohio man who plotted to kill judge sentenced 27 years
Yahya Mohammad, an Indian citizen, also was ordered deported to India after he serves his prison sentence
---
By Jennifer Feehan
The Blade, Toledo, Ohio
TOLEDO, Ohio — U.S. District Court Judge Jack Zouhary knew that his job carried risks with it, but he said he underestimated the toll it would take on his family until a defendant tried to hire a hitman to kill him.
"I never anticipated I would face the ordeal of a defendant putting a price on my head and taking concrete steps to hire for murder — my murder — where the FBI would ask me to help fake my own death in a case where I had yet to make any decisions that might impact the defendant's guilt or innocence, and where getting rid of me could only achieve the appointment of a new judge on the case," Judge Zouhary said in a statement read in court Monday by Matthew Shepherd, an Assistant U.S. Attorney.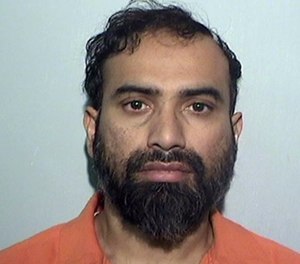 The new judge on the case, Chief Judge Edmund A. Sargus, Jr. of the Southern District of Ohio, sentenced Yahya Farooq Mohammad, 39, to 27½ years in prison for the unsuccessful plot on Judge Zouhary's life, and for supporting terrorism.
Mohammad, an Indian citizen, also was ordered deported to India after he serves his prison sentence. Judge Sargus told him he could never re-enter the United States and ordered him to pay a fine of $25,000.
Mohammad pleaded guilty July 10 to solicitation to commit a crime of violence for the 2016 plot to kill Judge Zouhary, and to conspiracy to provide and conceal material support or resources to terrorists for raising and delivering $22,000 to Yemen in 2009 for Anwar al-Awlaki.
Judge Sargus said it was ironic that he was sentencing Mohammad in a federal courtroom where thousands of people had been naturalized as U.S. citizens over the years.
"Farooq Mohammad was welcomed to this country with his three children and his wife, but he chose to attack the principles that bring so many people here," Judge Sargus said.
He called the plot on Judge Zouhary's life not only the attempted murder of a person but "a fundamental attack on the court."
Mohammad was being held in the Lucas County jail awaiting trial on charges of supporting terrorism when he told a fellow inmate at the Lucas County jail in March, 2016 that he was willing to pay $15,000 to have Judge Zouhary killed. The individual connected him with an undercover FBI agent who asked for a $1,000 down payment to do the job.
Michael Freeman, an assistant U.S. attorney, said Mohammad arranged for his wife — a U.S. citizen living in Illinois — to meet the purported hitman and deliver the $1,000 payment. A few weeks later, the undercover agent again met with Mohammad's wife, showed her a picture of what appeared to be a dead Judge Zouhary, and demanded the rest of the money.
Scheduled for trial in April on similar terrorism charges are Mohammad's brother, Ibrahim Zubair Mohammad, 36, of Euless, Texas; and brothers, Sultane Roome Salim, 41, of Columbus and Asif Ahmed Salim, 35, who most recently lived in the United Arab Emirates.
The four men were indicted in 2015 for allegedly providing financial support for al-Awlaki, an American-born terrorist was was killed in a U.S. drone strike in 2011.
©2017 The Blade (Toledo, Ohio)