Prisoner freed 90 years early appeals sentence
Says it was cruel and unusual punishment to put him back behind bars after he reformed his life
---
By Sadie Gurman
Associated Press
DENVER — A Colorado convict sent back to prison after being mistakenly released 90 years early says it was cruel and unusual punishment to put him back behind bars after he reformed his life.
An appeal filed Wednesday in the case of Rene Lima-Marin also says his constitutional rights were violated when a judge in January ordered him to finish his sentence after he started a family during nearly six years of freedom.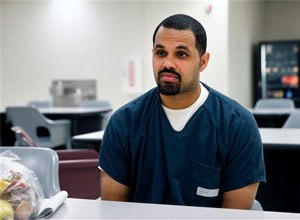 Lima-Marin, now 35, was convicted in 2000 of multiple counts of robbery, kidnapping and burglary after he and another man robbed two Aurora video stores at gunpoint when he was 20. A judge issued him back-to-back sentences for a total of 98 years in prison.
But a court clerk mistakenly wrote in Lima-Marin's file that the sentences were to run at the same time. Corrections officials depend on that file to determine how much time an inmate should serve, and Lima-Marin was released on parole in 2008. He got a job, married his former girlfriend, had a son and completed parole before authorities realized the mistake in January and sent him back to prison.
He did not reoffend and lived openly in the same community where he committed the crimes, his attorney, Patrick Megaro, noted in the filing to the Colorado Court of Appeals.
"Lima-Marin functioned as a member of society, no different than his neighbors, entirely unaware that Colorado would someday rip him from his home and family and upend a life he took years to build," Megaro wrote.
Arapahoe County prosecutors have said Lima-Marin was fully aware of the error and never notified authorities as he set about building his life. He withdrew an appeal of his sentence in 2001, a rare move that prosecutors say proves he wanted to avoid further court action that would call attention to the mistake.
Lima-Marin's co-defendant, Michael Clifton, also would have been mistakenly released early, but the error in his file was uncovered after he filed an appeal in his case, which he lost. Clifton is serving 98 years in prison.
"To conclude (Lima-Marin) should have insisted that he was being wrongfully released from prison ignores reality," Megaro argued in the appeal. "No rational individual would question the motives or correctness of his jailers and insist that they remain in prison for the rest of their life."
An online petition on change.org includes more than 200,000 signatures urging his release.
A spokeswoman for the state attorney general's office, which is handling the appeal, said only that the office is reviewing the case. One of the robbery victims told The Associated Press that Lima-Marin should stay locked up.
But in a June interview with the AP at Kit Carson Correctional Center, Lima-Marin said he has changed from the "stupid kid" he was when he did the robberies. And he can tell his re-incarceration is a struggle for his wife, Jasmine, and their sons, ages 7 and 4.
"By putting me back in prison, you're also sentencing three people who have absolutely nothing to do with this," he said. "I don't want them to be without a father. They need a person to teach them how to do things like how ride a bike, and how to treat a woman, and how to be successful, things they get from a father's perspective."
Megaro, an attorney in Orlando, also successfully represented Cornealious "Mike" Anderson, a convicted robber who didn't report to prison — despite trying to do so — for 13 years because of a clerical mistake. He was freed in May.