New report on Attica prison riot reveals inmates were beaten
Newly released documents tell of witnesses who saw inmates beaten, tortured as authorities retook control of Attica
---
By Michael Virtanen
Associated Press
ALBANY, N.Y. — More than 40 years after the nation's bloodiest prison rebellion, newly released documents contain accounts, some never before seen publicly, from National Guardsmen and a doctor who said they saw injured inmates beaten with clubs and others with wounds indicating they were tortured as state police and guards retook control of Attica.
The documents released Thursday, two years after state Attorney General Eric Schneiderman sought the disclosure, say several witnesses to brutal crimes against prisoners weren't contacted or interviewed by criminal investigators. They show apparent violent crimes by authorities, described by neutral witnesses, after police and guards fatally shot 29 inmates and 10 hostages and 1,300 inmates surrendered after their riot and five-day standoff at the maximum-security prison in western New York.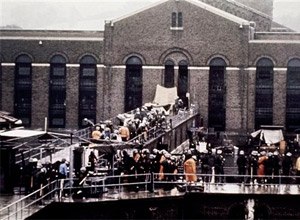 Such abuses have long been alleged by prisoners and their families, and the newly released witness accounts lend credence to their arguments. A 1975 report by Judge Bernard Meyer concluded there was no intentional cover-up, only serious errors in judgment and omissions in evidence gathered by troopers. He also noted an imbalance in the ensuing prosecution: More than five dozen prisoners and just one state trooper were indicted.
That conclusion, contained in the 570-page report's first volume, has been public for 40 years. The 46 pages detailing some of the factual basis for Meyer's findings were released Thursday. Another 350 pages remain sealed because they contained grand jury testimony, which by law is generally kept secret to protect the privacy of witnesses and investigation targets. A judge refused last year to make an exception to release those pages for the public and historical Attica record.
"Today, we are shining a light on one of the darkest chapters of our history," said Marty Mack, executive deputy state attorney general. This release might bring families of the victims nearer to closure and help Americans learn from what happened, he said.
In the newly released details, Meyer wrote that his own public request for information led to contacts and interviews that were made available to the criminal investigators but apparently went unused. Meyer, who later sat for seven years on New York's highest court, died in 2005.
"A National Guardsman who treated wounded inmates only to have bandages ripped off, saw stretchers deliberately tilted, saw guards beat inmates on medical carts with clubs, saw a prison doctor pull an inmate off a cart and kick him in the stomach, saw inmates beaten while running a gauntlet," Meyer wrote. The criminal investigation files contained no record of the guardsman or any attempt to interview him, he noted.
A doctor from Genesee Memorial Hospital saw "an inmate with large wounds around his rectum which were not from gunshot," which the doctor later heard were caused by a broken bottle, Meyer wrote. The doctor also said he was refused permission to take a brain-damaged inmate to the hospital and a day later saw prisonerswith untreated broken bones.
Another guardsman testified in a federal class-action suit by inmates that he saw "inmates beaten on stretchers, poked in the groin and rectum with nightsticks, beaten while running through gauntlets," Meyer wrote. Other inmates and observers testified about cigarette burns on prisoners.
Schneiderman two years ago sought full disclosure of the report, offering to redact only names of grand jury witnesses, noting related prosecutions and lawsuits were done. Others seeking the complete records are the Forgotten Victims of Attica, a group of prison employees who survived and relatives of those who died.
Three inmates and one guard died at the hands of prisoners in the riot and siege that ended Sept. 13, 1971. The 1,300 inmates who rioted over conditions and controlled part of the prison had clubs, knives and makeshift weapons and threatened to kill hostages. When state troopers and guards stormed the facility after negotiations stalled, they fatally shot 29 inmates and 10 hostages.
In his report four years later, Meyer noted that 62 inmates had been indicted on various offenses, but the first grand jury refused to indict in four cases brought against law enforcement personnel. One trooper was later indicted on a charge of reckless endangerment in 1975.
Former assistant special prosecutor Malcolm Bell, a whistleblower, prompted Gov. Hugh Carey to appoint Meyer to examine the investigations and prosecutions.
Bell had recounted building grand jury cases toward indicting a half-dozen state troopers for murder or manslaughter, 60 or 70 for reckless endangerment, and several ranking officers for what he believed was a cover-up. He was reassigned and then suspended in what he now regards as an effort by Louis Lefkowitz, the attorney general at the time, to protect GOP Gov. Nelson Rockefeller, who had ordered the prison retaken.
Bell wrote to Lefkowitz and later sent a 160-page report to Gov. Hugh Carey, describing in detail what he believed was a failure to pursue justice and a cover-up. That led Carey to appoint the commission headed by Meyer, whom Carey would later name to New York's Court of Appeals, its highest court.
"The decision to conduct the investigation sequentially or chronologically rather than topically was a serious error of judgment," Meyer concluded in the report's 123-page already-public first volume. "Investigation in depth of the later occurring events was thus deferred, which skewed the investigation's inadequate manpower away from possible retaking, rehousing and hindering of prosecution crimes by law enforcement personnel."