Corrections officers plead guilty, another inmate sentenced in BGF jail scandal
Defendents smuggled drugs, cellphones inside Baltimore City Detention Center, prosecutors say
---
By Colin Campbell
The Baltimore Sun
BALTIMORE, Md. -- Two more Baltimore City Detention Center correctional officers pleaded guilty and another inmate has been sentenced in connection with last year's jail racketeering conspiracy, federal prosecutors said Thursday.
Former jail employees Aisha Fraction, 26, and Derrick Jones, 41, admitted to smuggling contraband, including prescription pills, marijuana and cellphones, to inmates in the Black Guerrilla Family gang, U.S. Attorney Rod Rosenstein's office announced.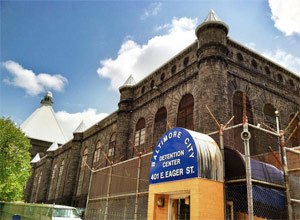 Fraction and Jones were assigned sentencing court dates in December and January, respectively.
The inmate, Frederick Morrison, 30, was sentenced on Wednesday to five years in prison consecutive to the state sentence he is currently serving, followed by three years of supervised release. He pleaded guilty to smuggling cellphones, tobacco, marijuana and other drugs through corrections officers for the BGF gang, as well as having a relationship with an officer and helping conceal contraband during searches, prosecutors said.
A co-defendent, Raylanair Reese, 32, is scheduled to be rearraigned on Friday, and several other defendants will be rearraigned next week.
Twenty-six of the 44 defendants charged in the BGF conspiracy — 16 of them correctional officers — have pleaded guilty. One has died, and the remaining defendents go to trial in November.