Ky. order gives 'fair chance' to job seekers with criminal past
Gov. Matt Bevin said his "Fair Chance Employment Initiative" applies only to state jobs in Kentucky's executive branch
---
By Bruce Schreiner 
Associated Press
FRANKFORT, Ky. — After his release from prison, Michael Hiser's life was boxed in by employers unwilling to take a chance on hiring people with a criminal past. So he scraped by with low-paying jobs until he went to college and started a career as a family therapist.
Hiser was at Gov. Matt Bevin's side on Wednesday when the governor signed an executive order aimed at giving people with criminal records a "fair chance" to land state government jobs.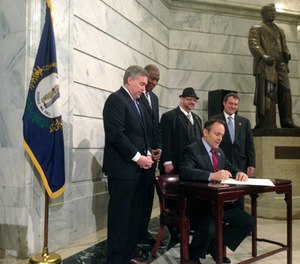 The initiative means that applicants — including felons — will no longer be required to check a box on initial state job applications if they have criminal records.
"We've been holding them back with these boxes," Hiser said while speaking at the signing ceremony in the Capitol Rotunda.
Bevin said his "Fair Chance Employment Initiative" applies only to state jobs in Kentucky's executive branch, but hopes that private-sector businesses follow the state's lead. State agencies can still inquire about criminal records during the interview process and may consider criminal history when making hiring decisions.
"All those things are still on the table," Bevin said.
The Republican governor said his order reflects Christian principles of mercy and redemption. It also has a practical effect that could provide a boost to people looking to turn around their lives, he said.
"All else being equal, those with checked boxes (for criminal convictions) are likely put off to the side," Bevin said. "The irony being that those may be the most qualified people, and yet the employer would never necessarily know."
In many instances, felons never apply for jobs because of applications asking if they have criminal records, he said.
Hiser, who spent four years in prison due to drug problems, said the executive order signaled the "beginning of an inclusive Kentucky."
"We can no longer set aside a part of our population and say you can't have a job. ... We're going to check your background, and even if it's 20 years ago that you committed a crime, we're going to hold it against you now," Hiser said.
"Anybody here the same today you were 20 years ago?" he added.
Kentucky becomes the 25th state to adopt such "fair chance" hiring practices, Bevin's administration said.
Bevin said his order doesn't apply to the state's private sector, but he urged businesses to consider adopting similar policies to improve opportunities for felons.
"Let us do what we can to ... create new chances for people who have made mistakes, paid their dues and want to mainstream back into society," he said. "Because we're going to need it."
Bevin acknowledged that such a policy "may or may not be prudent, given the nature of your business."
"I will leave that to you to decide."
As part of the vetting, state agencies will have access to comprehensive criminal records to make sure someone doesn't "slip through the cracks," state Justice Secretary John Tilley said.
But the goal, he said, is to give Kentuckians who were once incarcerated a chance to land good jobs to support themselves and their families.
The hope is that the policy will reduce the number of felon who become repeat offenders, he said.
Bevin's action Wednesday continues the state's efforts to try to smooth the transition back into society for people struggling to overcome their criminal past.
Last year, Kentucky lawmakers passed legislation that lets some felons erase their criminal records. The measure, signed into law by Bevin, allows people convicted of certain felonies to ask a judge to vacate their judgments.
Meanwhile, a proposed overhaul to the state's penal code looms as a potential big issue when state lawmakers return to the Capitol next week to resume this year's legislative session.