After escape, Ill. county sheriff wants biometrics for jail
Kankakee County sheriff wants fingerprint scanning technology added to his jail's security systems following an April 1 inmate escape
---
Associated Press
KANKAKEE, Illinois — The Kankakee County sheriff wants fingerprint scanning technology added to his jail's security systems following an April 1 inmate escape.
Sheriff Tim Bukowski spoke of the need for the equipment in a meeting Tuesday of the county board's finance committee, which voted in favor of the $69,000 purchase.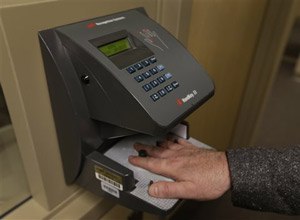 Twenty-three-year-old Kamron T. Taylor escaped from the Jerome Combs Detention Center after waiting outside his cell and attacking a guard making rounds. Wearing the guard's uniform, Taylor fooled officers in a master control room into buzzing him through security doors before driving off in the guard's SUV.
He was captured three days later.
The (Kankakee) Daily Journal reports the new system would require jail employees to swipe a keycard and scan their fingerprint.