Why all COs should wear body cameras
If a picture is worth a thousand words, why aren't corrections officers wearing body cameras to protect themselves?
---
By William Daly, C1 Contributor
We have all asked the question, what if? Life is full of what if choices. Each of those choices will make or break us. Asking what if questions can squander opportunities or challenge us to ponder an issue before it comes to pass. Which brings me to the point of this article: what if correctional staff were equipped with personal body cameras?
The innovation of technology has fundamentally revolutionized how society communicates and acquires knowledge. We have all heard the saying, 'a picture is worth a thousand words.' If that's the case, then a video can be priceless. What if we had those capabilities at our disposal in our facilities?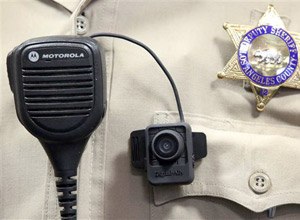 The technology available in jails and prisons in the 80s is dwarfed by the availability of surveillance capabilities today. Technology does not stand still and is now used heavily by not only the populace, but many law enforcement agencies. Though body cameras are not an entirely new concept and used by our nations' police departments, they are comparatively innovative to corrections.
The positives of any type of video surveillance in the correction environment are many to include: improved visual coverage of movement and activity, accountability of behavior and order with live and recorded capabilities. I can understand the trepidation of feeling monitored or the Big Brother state that is depicted in George Orwell's 1984, but  the unbiased optics of fixed video that are already in place in most facilities will only be enhanced with this next generation of technology now made mobile.
Thomas Jefferson once advised that "whenever you do a thing, act as if the entire world were watching." We as correctional staff work the toughest precincts and beats in the country, saturated with society's problematic citizens. We cannot think of this technology as a detriment to our profession, but instead as an effective device in an already limited arsenal of tools we can carry and employ.
We can use this technology to help mitigate false accusations and avoid lengthy and costly litigation by those in our custody. A typical day for us can transform into a perilous situation very quickly. I ask the question; why not use the 'CERTS breath mint' distance (otherwise known as the bad breath test) of audio and video to ascertain from an up close and personal position what was truly said and done, and what these devices proffer to assist in our daily duties?
The use of body cameras by police departments has had an overwhelmingly positive impact of enhanced officer safety, reduced liability and other effects on policing; this can only carry over to corrections. As a profession, we may be slow to the technology game, but I can see these devices being a positive mainstay to our operations and video surveillance of our nation's facilities.
No longer will departments solely be limited to purely post hoc prolonged staff reports, inmate statements, medical narratives, etc. We can now go to the video tape, literally. Transparency and accountability of already steadfast staff, with the addition of body camera audio and video, will make our work environments safer for everyone -- most importantly, staff.
Of course, there will be risks and obstacles that necessitate careful calculation. This may include concerns of device tampering and/or manipulation, the overreliance and complacency of staff in its use of technology, activation, discretion, privacy and prudence in its use. But these are concerns that can be overcome with strict policy and controls.
In business, evolve or perish is the motto. Overtaking and outshining your competitors is the norm. In corrections, inmates are our competitors and we need to be ahead of the curve. By no means is the emergence of body-worn cameras a perfect science, nor is this presumed to be the "silver bullet." In fact, it would be a disservice to deem that a body camera system will encapsulate everything that happens during our day or specific incident.
However, it will upgrade our capabilities and increase transparency to an otherwise publically closed-door profession.
Humans, which are fundamental to corrections, have been and will always be the most integral part of the job. Will the introduction of this new technology deter misconduct by staff and inmates? Will it discourage lying and falsifying documents by staff and inmates? Will it placate to the public outcry and criticism?
At least at this point, all signs lead to an improvement to our current environments and the ability to see and hear an unbiased view from a staff perspective that was not necessarily available in the past.
I am positive this will change contingent upon ways to overcome financial and technical obstacles.
Corrections needs to incorporate not only best practices (that which has already been proven) but also next practices, which are the innovative new things in this ever-changing environment, both data-driven and results-oriented that will propel us to heightened security operations.
We are experiencing our latest evolution and body cameras may prove to be relevant to that end. Will our departments be next to leverage the right mix of technology available to improve and transform upon your daily duties and safety? What if we don't?
About the Author:
William Daly, CPM, CCE, CJM is a veteran in the field of Corrections, in his 28th year. Daly is a retired Captain from the New York City Department of Correction and currently the Director of the Salt River Department of Correction, in Scottsdale, Arizona. He is a Certified Public Manager, as well as, a Certified Corrections Executive and Certified Jail Manger through the American Correctional Association and American Jail Association respectively.