Former Ala. Death Row inmate given new trial in woman's 1990 murder rejects offer of life with parole
Steven Petric turned down the possibility of one day being set free and instead wants to take his chances with a jury - again
---
By Carol Robinson
al.com
HOMEWOOD, Ala. — A man convicted of capital murder and sentenced to death in the 1990 slaying of a Homewood woman who was found bound, beaten, raped and stabbed with her throat slit has turned down the possibility of one day being set free and instead wants to take his chances with a jury - again.
Steven Alan Petric was convicted in 2009 in the brutal death of 23-year-old Toni Lim.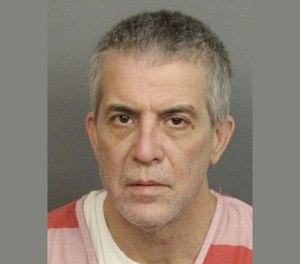 The Alabama Court of Appeals three years ago affirmed a lower court ruling granting a new trial for the death row prisoner based upon claims of ineffective representation at trial.
Petric, now 61, appeared in a Jefferson County courtroom Wednesday for a hearing on a series of motions filed in his case.
During that hearing, Jefferson County Circuit Judge Michael Streety learned that the District Attorney's Office had offered Petric a sentence of life with the possibility of parole in exchange for a guilty plea.
Petric's lawyers – Scott Brower, Wendell Sheffield and Anthony Bowling – told the court Wednesday that their client had rejected the prosecutors' offer. The judge asked Petric if that was correct, and he replied, "Yes sir."
Streety set a May 2024 date for Petric to be tried again. Jefferson County Deputy District Attorneys Neal Zarzour and Misty Reynolds are prosecuting.
Lim, a student and employee of Sammy's strip club on Valley Avenue, was discovered slain on March 9, 1990, inside her Raleigh Villas apartment that she shared with a roommate.
The roommate found Lim's body when she returned from work about 8 p.m.
The roommate, Martha Milinda Higginbotham, previously testified there was no forced entry at the apartment and that Lim had told her that a man named "Steven" was going to help her fix the brakes on her car.
Higginbotham also said that a man named "Steven" sometimes gave Lim a ride home from school.
When Lim was found lying on her bed in her apartment, her body was covered with a blanket and her head was covered with a pillow.
An autopsy showed she had suffered a stab wound to the back of her neck and a large cut across her throat. She was wearing only a shirt and a bra.
A blood-soaked t-shirt was tied loosely around her neck.
Her hands were tied behind her back with pantyhose. Court records show an exercise rope was tied tightly around her right wrist and the rope extended down to her ankles, which were bound by the rope.
The rope was tied in such a way that it would tighten if Lim's legs were straightened.
Lim's case went unsolved for more than a decade, until 2006 when a routine submission of his DNA to a national database matched DNA found at the scene of Lim's death.
Petric has maintained his innocence, saying he had only consensual sex with Lim.
At the time Homewood police charged Petric with Lim's murder, he was serving a 26-year prison sentence for armed robbery in Illinois.
During his Alabama trial, prosecutors portrayed a pattern by Petric of attacking women at knifepoint before stealing their wedding rings.
Several women came forward to say he attacked them in the early 1990s.
Jurors in the Birmingham trial heard about two other attacks on women in 1994 in Illinois that prosecutors attributed to Petric, one fatal and one non-fatal.
The judge barred testimony in the trial about three other attacks against women, two in the Birmingham area and one in Illinois. Petric has a criminal history dating back to 1979.
The Alabama jury convicted Petric in August 2009.
Jefferson County Circuit Judge Bill Cole sentenced Petric to die by lethal injection. Petric had this to say at the time:
"I know it is customary for the defendant to ask the family for mercy, but how can I? I'm not guilty.''
In February 2018, Jefferson County Circuit Judge Tracie Todd overturned Petric's conviction.
Todd in 2021 was temporarily removed from the bench after a scathing 100-page report by the Judicial Inquiry Commission that alleged abuse of power. The Lim case was cited in that complaint.
The Alabama Court of the Judiciary last year found Todd guilty on one charge of violating judicial ethics and suspended her without pay for 120 days.
According to deathpenaltyinfo.org, prosecutors said DNA evidence from semen and cigarette butts linked Petric to the crime, and they presented extensive evidence arguing that Petric had raped and murdered the woman he had been dating in Illinois.
Todd ruled that Charles Salvagio, Petric's first attorney, had unreasonably failed to investigate the Illinois case and failed to rebut the prosecution's claims by showing that the jury there had acquitted Petric after video footage showed he had been elsewhere when those crimes were committed.
The court further found that Salvagio, who died in 2020, had unreasonably promised the jury during his opening statement that the defense would show that another man who knew the victim had committed a similar murder, without having reviewed the record of the other case.
At the close of the prosecution's case against Petric, the defense was provided with a DNA report that cleared the alternate suspect of the other murder, leaving counsel without a defense.
State prosecutors appealed Todd's ruling, but the Alabama Criminal Court of Appeals on Aug. 14, 2020, granted Petric a new trial and ordered Petric brought back to the Jefferson County Jail to be held until the conclusion of his new trial.
Petric was booked back into the county lockup on Feb. 3, 2022, and remains held without bond.
—
©2023 Advance Local Media LLC.
Visit al.com.
Distributed by Tribune Content Agency, LLC.
McClatchy-Tribune News Service