Judge rules California can allow increases in good-conduct credits for prison inmates
"If you stare at a wall you're getting good-conduct credits," said Chief Deputy DA Rod Norgaard. "You just don't have to stab anybody that day"
---
By Sam Stanton
The Sacramento Bee
        
SACRAMENTO — A Sacramento judge has rejected an effort by 28 California district attorneys to halt an increase in good-time credits for some state inmates, allowing the California Department of Corrections and Rehabilitation to move forward with the changes.
Sacramento Superior Court Judge Shama Mesiwala issued the order late Thursday and dissolved a temporary restraining order from last month that halted the rules from taking effect Jan. 1. She also rejected the district attorneys' request for a preliminary injunction.
The judge agreed with CDCR's argument that the prosecutors did not have legal standing to bring the action, a stance that the DAs argued ignored the fact that they "represent over 20 million Californians who have been impacted by these so-called emergency regulations."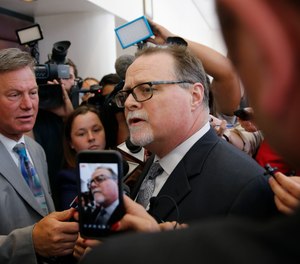 "District attorneys are empowered to prosecute criminal offenses on behalf of the people, including victims and their families," the DAs had argued in a lawsuit led by Sacramento District Attorney Anne Marie Schubert, who is running as an independent for state attorney general.
CDCR and Schubert's office had no immediate comment early Friday on the judge's order.
Prison officials first introduced changes in good-conduct credits last May in an effort to decrease prison populations during the COVID-19 pandemic, changes that critics said would shorten sentences for up to 76,000 serious and violent offenders.
[More: 76,000 Calif. inmates now eligible for earlier releases]
CDCR countered that the regulations gave inmates incentives to work toward rehabilitation and earn credits allowing them to win release sooner. But the changes led to confusion among inmates and their families, especially for firefighter camp inmates who said the changes appeared on paper to have actually increased the amount of time they would have to serve.
CDCR announced revisions in the rules for firefighters in early December to correct the problem.
Schubert and the other DAs sued after that announcement, targeting good-conduct credit rules for non-violent second-strike inmates who were to see their good-conduct credits increase from 50 percent to 66 percent, but exempting the firefighters from the suit.
The DAs argued that the rules were put into place without public comment, something CDCR said was allowed under voter-approved Proposition 57.
In a hearing on Monday, Chief Deputy District Attorney Rod Norgaard argued that the rules are being applied to inmates convicted of crimes such as vehicular homicide and involuntary manslaughter and saying "I just don't think (CDCR) can be trusted" not to come back again with even more increases in good-conduct credits.
"If you go fight a fire, you're not hearing DAs scream foul," Norgaard said. "But if you stare at a wall you're getting good-conduct credits. You just don't have to stab anybody that day."
Norgaard also argued that the DAs have legal standing because they are the ones who have to walk victims into court and explain the impact of sentences for offenders to them afterward.
"When the judge sentences them to 10 years, we're the ones who have to call them and say, 'No, it's 3 and 1/3,'" he said.
  
(c)2022 The Sacramento Bee (Sacramento, Calif.)
McClatchy-Tribune News Service