Most secure federal prison in U.S. is one of the least staffed, union says
FCC Florence, which includes the supermax Administrative Maximum Facility, is currently only 59% staffed
---
By Sarah Sinning
FLORENCE, Colo. — The union representing correctional staff at the Federal Correctional Complex Florence says a critical staffing shortage is endangering the lives of both officers and inmates. 
With only 59% of the staff needed to safely run the facility, FCC Florence is now one of the least staffed federal prisons in the nation, the American Federation of Government Employees said in a statement. At least 136 more officers are needed, but seven officers have quit in the past month alone and 15 more are expected to retire at year's end.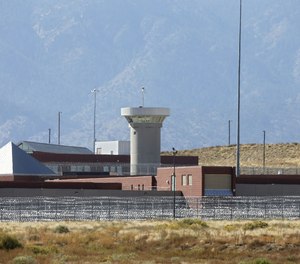 "We are unable to recruit and retain officers and staff due to the high cost of living in Colorado, salaries that are far below what other employers offer, and the long time it takes to bring on new employees," AFGE Local 1169 President John Butkovich said.
Mandatory overtime is also a huge recruitment obstacle, the union says, with additional eight-hour shifts being required up to four times per week.
"We're in a critical situation that will only get worse unless something is done soon," Butkovich said.
FCC Florence comprises four facilities: the minimum-security Federal Prison Camp, the medium-security Federal Correctional Institution, the high-security United States Penitentiary, and the supermax Administrative Maximum Facility. 
Tasked with supervising some of the most dangerous inmates in the federal prison system, officers are sounding the alarm now "before something truly tragic happens," Butkovich said.  
There have been six serious staff assaults in the past six months and two inmate homicides in the past nine months, according to the union.
And now Colorado lawmakers are taking notice. Last week, Senators Michael Bennet and John Hickenlooper sent a letter to Bureau of Prisons Director Michael Carvajal and Office of Personnel Management Director Kiran Ahuja urging approval of the union's request of 25% retention pay to all employees at the facility as well as direct hiring authority to reduce the time it takes to onboard staff. (Read the full letter below.)
"We believe these steps are necessary to improve recruitment and retention of new staff, and to retain the existing staff," the lawmakers wrote.
There may soon be light at the end of the tunnel, however, or at least a flicker. In September, OPM approved a similar request from AFGE and Illinois lawmakers regarding the staffing challenges at the high-security U.S. Penitentiary Thomson.
12.08.21.Bennet Hickenlooper Fcc Florence Letter by PG Edi on Scribd