Idaho inmate: Training rescue dogs 'gives us a purpose'
Several inmates at the Idaho State Correctional Center are training shelter dogs until they are ready for adoption
---
By Mia Maldonado
The Idaho Statesman
BOISE, Idaho — One of the most popular programs at the Idaho State Correctional Center is back.
Like many things, it was shut down in 2020, a victim of the early waves of the COVID-19 pandemic. But now inmates at the minimum- and medium-security prison south of Boise are once again training dogs to get them ready for a better life — something many incarcerated people are striving for as well.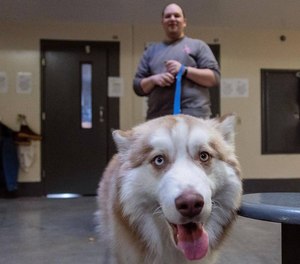 For years, ISCC has partnered with local animal shelters to train dogs until they are ready for adoption. This year it partnered with Meridian Canine Rescue to get the program, called EPIC (Educational Project for Inmates and Canines), up and running.
The program places homeless or surrendered dogs who need behavior training at the prison for roughly three months, according to Meridian Canine Rescue's executive director, Jessica Ewing. She told the Idaho Statesman that dogs are matched with inmate handlers who use positive reinforcement training and behavior modification.
"The EPIC program provides so many benefits to dogs, humans, families and shelters, and effectively meets the needs of a community that often struggles to manage canine behaviors," Ewing said. "This program is a win-win all the way around."
There are four dogs living at the prison, and one more is on the way, Ewing said. Once the dogs have completed all required training, they will be available for adoption.
Ewing said the handlers attend weekly classes with shelter staff — focusing on topics including learning theory, behavior analysis, husbandry, enrichment, marketing and even data analysis.
'It gives us a purpose': Inmates talk training dogs in prison
ISCC Warden Randy Valley told the Statesman that several inmates were eager to join a new dog-training program after a similar setup with the Idaho Humane Society ended during the pandemic.
"In December of last year, I couldn't walk in this facility without being asked, 'When are the dogs coming back?'" he said. "It's what everybody wanted. ... It just brightens their day."
Matthew Stevens, imprisoned in 2018, previously worked as a handler with the Idaho Humane Society's program. He now is working with Bear, a 9-month-old husky who was surrendered by previous owners because of his high energy and separation anxiety.
"I've always had some sort of dog ever since I was a kid," he told the Statesman in an interview. "It gives us a purpose in a place that can be rather meaningless sometimes."
Stevens said Bear's separation anxiety has lessened since moving to the prison in November, and he does well when playing with the other EPIC dogs.
The dogs live with their handlers in their cell blocks but are taken out several times a day to socialize with the other dogs and inmates.
Longtime inmate Ken Arrasmith said he has trained dogs in custody over the past 10 years. As an EPIC handler, he said it feels good giving back and helping dogs get a second chance at life.
Arrasmith said he once trained a deaf dog who veterinarians recommended be put down due to aggressive behavior. After the dog's time at the prison, it was adopted by a rescue center in North Idaho — and the center used it as its demonstration dog, naming it "Demo."
"We want the dogs to succeed," Arrasmith said in an interview. "We live in an environment that's really depressing, and there's a lot of stress. We're separated from our families, and the dogs are my family."
©2023 The Idaho Statesman.
Visit idahostatesman.com.
Distributed by Tribune Content Agency, LLC.
McClatchy-Tribune News Service