COVID-19 resources from corrections organizations (updating)
Industry association websites, webinars and resources offer training, procedures and advocacy for their members who are on the frontline pandemic response
---
Corrections officers, as well as their partners in LE, fire, EMS and dispatch, are on the frontlines of the COVID-19 pandemic response. Prison and jail associations, membership organizations and unions have stepped up to serve and represent the specific needs of COs during this national emergency.
Use this directory to access websites, webinars and resources from top organizations including the American Correctional Association and the National Institute of Corrections.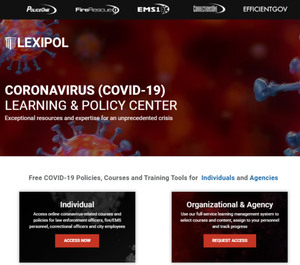 The ACA's resource page includes webinars, CDC updates, prison & jail response plans, as well as other guides for corrections staff battling the outbreak.
The American Jail Association has compiled numerous resources for departments – including strategies for peer support during this challenging time, free technology tools and tips for stress management.
The NIC's COVID-19 portal is tracking upcoming webinars and other virtual events related to COVID-19 training, CDC updates, the BOP's response to the pandemic and more.
The IPSA has gathered resources from various organizations, including FEMA and the CDC, to keep corrections staff up-to-date on the latest information about the crisis.
The NIOSH's resource page includes valuable information on the use of various masks and other personal protective equipment, as well as tips for what to do if you've had close contact with a subject and other guidelines.
The NCCHC is available to assist any departments who have questions and concerns during the crisis.
Here you'll find news and information updates, a data visualization center, videos and live educational events.
In addition to these resources, be sure to visit our COVID-19 learning and policy center.  
If your business or association is supporting the response to COVID-19, please email editor@correctionsone.com to share how you are assisting and supporting prison and jail staff.