Kan. Supreme Court cancels hearing for lawsuit filed by 11 inmates
Inmates claim imprisonment during the pandemic puts their health at risk and violates their constitutional rights to be free from cruel and unusual punishment
---
By Dale Hogg
Great Bend Tribune
LANSING, Kan. — In an eleventh-hour change, the Kansas Supreme Court Tuesday night canceled a hearing for a class-action lawsuit filed by 11 inmates in Kansas prisons, including an inmate incarcerated at Ellsworth Correctional Facility. The prisoners claim their continued imprisonment during the COVID-19 pandemic puts them at risk from the illness and violates their constitutional rights to be free from cruel and unusual punishment.
Oral arguments were to be heard electronically at 3 p.m. Wednesday in James Hadley et al. v Jeffrey Zmuda, secretary of corrections, et al. However, the court announced the jurisdiction over the case has been transferred to the Leavenworth County District Court in Lansing, site of Lansing Correctional Facility, one of the facilities mentioned in the suit.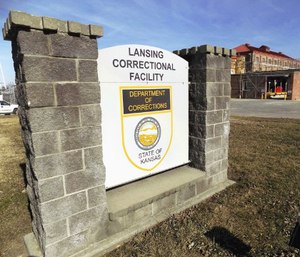 The inmates in Kansas prisons have sued Zmuda and the wardens of the Lansing, Ellsworth, and Topeka Correctional Facilities. So far, only Lansing has had confirmed cases, 11 among staff and 12 among inmates. The prisoners seek:
The early release of some inmates.
Mitigation efforts consistent with guidelines of the Centers for Disease Control.
A housing or public support plan allowing for isolation of those who have been exposed to or infected with COVID-19.
A plan for social distancing within the prison and unrestricted access to soap and other sanitation products during the outbreak.
In their complaint, the inmates allege "an over-incarceration crisis for years forcing Kansas inmates into tighter quarters with one another and diluting already limited access to medical care. There are currently 9,988 people incarcerated in KDOC facilities even though the prisons have a maximum capacity of 9,924 people."
The overcrowding of Kansas prisons has made incarcerated Kansans extremely vulnerable to a COVID-19 outbreak. Lansing has several COVID-19 cases.
"Petitioners are housed in crowded facilities with limited access to adequate medical treatment and sanitation supplies. Several petitioners also have preexisting medical conditions that make them uniquely vulnerable to serious complications and death if they contract the COVID-19 virus-which has already infected both staff and individuals housed within Kansas prisons," court filings note.
"By exposing Petitioners to this fatal contagious disease, Respondents violate Petitioners' rights under the Eighth Amendment of the United States Constitution and Section 9 of the Kansas Constitution Bill of Rights to be free from cruel and unusual punishment. In addition to subjecting Petitioners to continuing unconstitutional harm, Respondents are unnecessarily risking Petitioners' lives."
The circumstances of pandemic warrant "extraordinary relief – in particular, the release of Petitioners and similarly situated individuals on whose behalf they have sued Respondents. Given the exponential spread of COVID-19, there is no time to spare."
Monica Burch of Manhattan is a 31-year-old woman currently incarcerated at Ellsworth Correctional Facility. She is eligible for release in less than three months after serving a sentence for non-violent drug offenses.
"Because of the COVID-19 pandemic, I am afraid that I will get sick-or worse- before I ever have the opportunity to make it home," she said in her statement. Burch has been diagnosed with prediabetes.
"We have all heard the news that KDOC correctional officers have started to test positive for the virus. It is only a matter of time before correctional staff and inmates at Ellsworth CF-who have no choice but to live and spend their days in cramped, unsanitary shared spaces- will contract COVID-19."
Don Langford is the ECF warden and is named in the suit.
———
©2020 Great Bend Tribune, Kan.
McClatchy-Tribune News Service