Federal lawsuit alleges wrongful death of diabetic Ill. inmate
The suit alleges that Michael A. Carter's death was the result of medical malpractice and denial of medical care, as the defendants 'improperly confiscated and withheld' diabetic medication
---
By Huey Freeman
Herald & Review
URBANA, Ill. — A civil lawsuit has been filed in U.S. District Court alleging that the Macon County Sheriff's Office, Decatur Memorial Hospital and individual medical personnel and correctional officers were responsible for the wrongful death of a 35-year-old inmate who died in custody last year.
Michael A. Carter, a 35-year-old Decatur man who was being housed in federal custody in the Macon County Jail, died July 18, 2015, as a result of a complication of diabetes.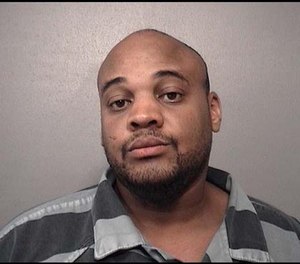 The suit alleges that Carter's death was the result of medical malpractice and denial of medical care, as the defendants "improperly confiscated and withheld" Carter's diabetic medication without providing him with a replacement.
According to the complaint, filed July 18, the defendants failed to monitor Carter's condition and failed to take action when his condition did not improve. There are also allegations of brutality by correctional officers.
Carter, who was booked into the Macon County Jail on July 13, "was deprived of emergency medical care for an obviously serious diabetic condition and denied emergency ambulatory transport to the hospital," the complaint said. He died "just five days after his arrest, alone in a jail cell due to diabetic ketoacidosis."
After Carter was assigned a jail cell, he began to complain that he was ill and requested medical attention and his medications, the complaint says. During the following two days, he "repeatedly complained to his fiancee on the phone about extreme abdominal pain, vomiting, weakness, fatigue, and shortness of breath."
On July 15, he was transferred to the medical unit in the jail, but "was still not given medication to treat his diabetic condition." He was transferred back to a cell in general population, where he was not monitored while in medical distress, and "received no treatment for his worsening diabetic condition."
Two days later, Sheila McGee, Carter's mother, called the jail and spoke with Jo Bates, a nurse at the jail, named as a defendant in the case. McGee told Bates "that she, too, was a nurse, and that her son was diabetic and having respiratory distress, shortness of breath, vomiting and was clearly disoriented." McGee "warned defendant Bates that his symptoms sounded like diabetes ketoacidosis, an emergency life-threatening medical situation."
When McGee asked the nurse to "immediately transfer him to a nearby hospital" for medical attention, "Bates refused, telling Mr. Carter's mother that Dr. (Robert) Braco would check on him the following day."
Braco is also named as a defendant, along with DMH Corporate Health Services and five correctional officers.
According to the narrative in the complaint, Carter was returned to the jail's medical unit July 17. "Dr. Braco continued to refuse to give Mr. Carter diabetic medication to treat his deteriorating condition." Despite "his obvious and serious medical distress, Dr. Braco ordered his return to a general population cell the following morning."
The following morning, Carter was disoriented, unable to stand on his own and could not speak clearly, the lawsuit alleges. His glucose level was dangerously high. "He still had not been given insulin or his prescribed diabetes medication."
Carter was forcibly removed from his medical cell by correctional officers, whose actions included kicking him, stepping on his hand and placing him in a wheelchair by "picking him up around his neck," the complaint said. He was placed in a segregated housing area reserved for uncooperative inmates. His cell was not equipped with "video surveillance for medical monitoring."
When "Bates told defendant Dr. Braco that Mr. Carter was in obvious medical distress, Dr. Braco refused to allow Mr. Carter's emergency transfer to the hospital, saying he would evaluate him on his regular rounds later that day." At the urging of a jail officer, Braco later "relented" and authorized the transfer, but only by patrol car "because he didn't want to incur the $1,000 bill for an ambulance."
While discussions about transferring him to a hospital were under way, Michael Carter was found unresponsive in a jail cell. He was transported by ambulance to Decatur Memorial Hospital, where he was pronounced dead at 12:35 p.m., according to testimony at a coroner's inquest held Aug. 31, 2015.
The plaintiff in the case is Felita McGee, the administrator of Carter's estate. Rahsaan A. Gordon of Chicago is the plaintiff's attorney.
Sheriff Thomas Schneider, who was not named as a defendant, said he can not comment on anything in relation to the Carter's death due to pending litigation.
"There is no greater loss than the loss of a loved one," Schneider said. "I continue to offer my prayers for the family of Michael Carter."
Carter was taken into federal custody in the jail, where he was awaiting trial on charges of attempted distribution of cocaine and discharge of a firearm during and in relation to a drug trafficking crime.