Judge orders N.Y. county to provide methadone to opioid-addicted inmate
He said it was "clear" the inmate would suffer irreparable harm if denied the treatment while incarcerated
---
By Brian Kelly
Watertown Daily Times, N.Y.
        
WATERTOWN, N.Y. — A federal judge on Tuesday ordered the administrators of the Metro-Jefferson Public Safety Building to provide methadone to an opioid-addicted inmate at the jail.
The issue initially arose in April when a 35-year-old man, identified only as P.G., filed action in U.S. District Court, Utica, seeking a preliminary injunction alleging that the county's refusal to provide methadone treatment violated his rights under the Americans with Disabilities Act, the Constitution and related state law.
The court action was filed in conjunction with the New York Civil Liberties Union, New York City, and the American Civil Liberties Union Foundation. At the time, P.G. was not incarcerated, but believed his detention was imminent due to a probation violation.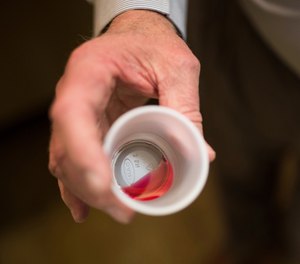 Following July 8 oral arguments in the matter, Judge David N. Hurd reserved decision and advised P.G.'s attorneys to notify the court immediately if he was taken into custody. According to court documents, P.G. was committed to custody Friday on the probation violation.
According to P.G.'s complaint, he has been diagnosed with opioid use disorder, or OUD, for which he's prescribed daily treatment with methadone. He has been addicted to opioids for more than 15 years — nearly his entire adult life. He claimed that during previous incarcerations, he underwent severe withdrawal, including in 2016 in Onondaga County when the jail denied him Suboxone, an alternative treatment for OUD. Soon after he was released, he relapsed, overdosed and almost died, according to court documents.
He claimed that methadone treatment worked for him, but that during a 2019 incarceration at the PSB he was denied methadone and suffered severe withdrawal. Knowing he was about jailed again, he had recently begun taking a lower-than-normal dosage of methadone because he believed it would potentially mitigate the effects of withdrawal if his OUD treatment was cut off.
In response, Jefferson County denied that it has a policy banning methadone or other medication for OUD, as it does allow the use for pregnant women. However, the county refused to "make a firm commitment" regarding P.G.'s treatment until he was in custody and medically examined by staff at the PSB.
P.G. has been treated with methadone daily through the Credo Community Center for the Treatment of Addictions in Watertown, but the issue arose over the weekend that Credo is not open on Sundays or holidays.
Credo wanted to give P.G. a "take-home" dose of methadone to "self-administer" on those days, but the county countered that this approach violates state and federal law, as well as its collective bargaining agreement with its corrections officers, as a "take-home" dose would require jail staff, who are not authorized to possess or administer methadone, to distribute the narcotic inside the jail.
Judge Hurd ruled, among other things, that it was "clear" P.G. would suffer irreparable harm if denied methadone while incarcerated.
"The uncontested evidence established that withdrawal from methadone treatment is excruciatingly painful, will cause a number of severe physical and mental symptoms, and will place plaintiff at a significantly heightened risk of relapse and death," the judge wrote in granting P.G.'s motion for a preliminary injunction.
He ordered the county to either provide P.G. with a daily dose of methadone at the jail, take him to a place in the community where he can receive the medication, or release him on medical furlough if the jail is unable to accommodate his daily medical needs.
"P.G., like all people in carceral settings, has a right to adequate medical care," NYCLU senior staff attorney Antony Gemmell said in a statement Wednesday. "We are gratified by today's decision, which recognizes that banning life-sustaining treatment for OUD is cruel, discriminatory, and unlawful."
   
(c)2021 Watertown Daily Times (Watertown, N.Y.)
McClatchy-Tribune News Service