Ore. county jail nurse sues after receiving dozens of harassing letters from inmate mailed to home
While the state has protocols in place to screen and confiscate outgoing inmate mail, Multnomah County says their hands are tied
---
By Maxine Bernstein
oregonlive.com
        
PORTLAND, Ore. — Tommie Norton, a registered nurse working at the downtown jail in Portland, was stunned to return home from work one day and find a long handwritten letter in the mail addressed to him from an inmate.
The contents were even more disturbing. The inmate wrote in graphic detail of wanting to have sex with Norton. The letters included racist epithets.
Norton complained to a supervisor. But the letters kept arriving. County authorities said they couldn't stop the inmate from mailing the letters. A judge wouldn't grant a stalking order.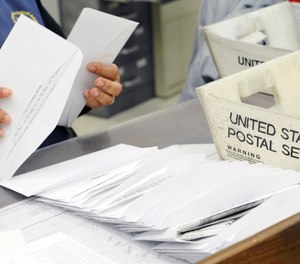 From November 2019 through March 2020, Norton received about 40 letters, he said. Norton said he and his roommate ended up moving out of their apartment to escape the barrage.
Norton is now suing his bosses in federal court, claiming their alleged negligence subjected him to a hostile work environment and sexual harassment at the Multnomah County Detention Center, a maximum-security jail that has a capacity of 448 adults and is located inside Portland's downtown Justice Center.
Norton and another nurse at the jail who also received a letter from the inmate have filed a grievance with the county.
The case has prompted the Oregon Nurses Association to seek a policy change that would require Multnomah County to promptly investigate complaints of harassment and have jail staff confiscate letters that inmates address to staff. The association, currently representing the county nurses in contract talks, has urged the county to adopt a "healthy work environment" plan that includes keeping workers' home addresses and other personal information confidential.
Kevin Mealy, a spokesperson for the association, said such steps are standard in the state prison system and "make common sense."
Kate W. Yeiser, a county spokesperson, declined any comment on the jail nurses' complaints or the lawsuit. The county in January 2020 moved Norton to a different dorm in the jail to avoid contact with the inmate, according to a county human resources official.
'THEY PUT IT ALL ON ME'
Norton had taken the letters to his supervisors and they directed him to get a court-ordered stalking order against the inmate, according to emails obtained by The Oregonian/OregonLive.
The inmate was convicted of first-degree arson in July 2019 after setting part of a bed on fire in a room of a Best Western Inn on North Hayden Meadows Drive and convicted of first-degree arson in September of this year after burning a mattress of a bed at Providence Portland Medical Center using a cigarette lighter.
Additional arson charges are now pending in Clackamas County stemming from a fire set to property in West Linn, according to court papers.
The inmate is identified in court papers and referred to by their lawyer as Colby Lee Aplin. They identify as a transgender woman and also use the name Tesla Aplin Armstead, according to the inmate's own documents filed in court.
The inmate has filed motions claiming to be the child of a member of the British House of Lords and contending they deserve "diplomatic immunity." The inmate's lawyer wrote in court documents that he's working to set up a psychological evaluation for his client.
Norton said he tried twice to get a stalking order but no judge would grant one. They told him the letters didn't meet the threshold to prove he was in imminent danger, according to Norton, his lawsuit and back-and-forth emails with his county supervisors.
"I had to read through this whole box of filth," Norton said. "I got really angry and upset. Management wouldn't do anything. They put it all on me."
Norton said the inmate would ejaculate on paper and mail it to his house and tried to blackmail Norton into staying at his apartment upon release. Norton said he's biracial, Black and white, and the inmate used racial slurs in the letters.
In an email to Norton in January 2020, a county corrections health supervisor wrote that county attorneys had advised that jail staff aren't allowed to confiscate outgoing mail from inmates. The supervisor didn't explain why in the email, and county officials wouldn't comment further.
The supervisor wrote to Norton: "I want to help you as best as I can, however, the only thing I can do as a manager is prevent contact here in the jail" between Norton and the inmate.
Another nurse at the Multnomah County Detention Center also received letters from the inmate. The nurse, who asked to be identified as Ryan W. out of fear of further harassment, said a letter arrived at his parents' home, where he lives. The letter was sexually explicit and racist, according to Ryan W., who is Asian American. The inmate also sent a selfie.
"I felt violated," Ryan W. said. "I was concerned for my parents' safety." He reported the letter immediately, sending an email to a supervisor, under the subject: "Inmate stalking me."
The inmate was released from jail on Feb. 16, 2020, but rearrested on March 5, 2020, on a probation violation and placed back at the downtown jail. While out during that week and a half, they are suspected of showing up at Norton's apartment. Norton said he was out of town, but the concierge of his building described someone who looked like the inmate and claimed to be a florist but had no flowers and wanted to hand-deliver a letter.
The inmate was moved in September to Clackamas County on pending first-degree arson charges in that county, according to jail records. The inmate faces no criminal allegations for sending the letters.
'NO ONE SHOULD BE HARASSED ON THE JOB'
In a response to the nurses' grievance, the county Health Department wrote that it "takes the safety and well-being of employees seriously."
The department acknowledged the inmate's actions were "horrendous" and wrote that it understands "the impact to Norton ... and others who experienced the egregious behavior."
County health leaders, according to the department's human resources Director Debi Smith, took steps to address the problem, including moving Norton to a different dorm to keep him and the inmate separated in January 2020, moved the inmate to Inverness Jail in Northeast Portland this past March and assigned a sergeant to monitor the inmate's behavior.
The health department, along with the Sheriff's Office, pledged in the response to the grievance to "continue to address the behavior of problem inmates ... to ensure the safety and security of Health Department staff and others.
The grievance is now in arbitration — meaning the dispute has gone to a third-party arbitrator to resolve — while the county nurses are in contract bargaining.
Mealy, the Oregon Nurses Association spokesperson, said county officials should have put an end to the situation as quickly as possible.
"It is challenging enough to work in health care in a jail setting during Covid-19," Mealy said. "No one should be harassed on the job."
The state has protocols in place to address potential harassment. Under a state administrative rule, all incoming and outgoing mail for Oregon Department of Corrections inmates is subject to inspection or examination.
Further, the rule says the Corrections Department may "prohibit an inmate from sending unwanted mail to a particular person or address when requested by the person." It expressly prohibits inmates from sending sexually explicit material or any material that "threatens or is detrimental to the security, safety, health, good order or discipline of the facility."
Norton said he's suffered post-traumatic stress from the inmate's letters. He said he provides medical care in jail for alleged sex offenders and accused murderers, "but I've never been scared until something like this happened."

©2021 Advance Local Media LLC.
McClatchy-Tribune News Service