Suicide watch set for Reynolds until his execution date
Condemned inmate attempted suicide on execution day
---
By Alan Johnson
The Columbus Dispatch
YOUNGSTOWN, Ohio — Less than 48 hours after he tried to cheat the executioner by taking his own life, condemned killer Lawrence Reynolds was back at the Ohio State Penitentiary yesterday.
Reynolds, 43, was placed in an isolation cell on suicide watch after his release from St. Elizabeth Hospital in Youngstown.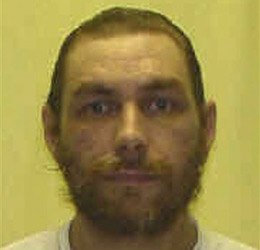 His suicide attempt Sunday night with an overdose of an unspecified prescription medication postponed, but did not stop his execution, now scheduled for 10a.m. Tuesday at the Southern Ohio Correctional Facility near Lucasville.
Dr. Robert D. Truog, a medical ethicist at Harvard Medical School and fellow at the Hastings Center, said Reynolds' medical care should be no different from any other inmate's simply because he's on Death Row.
"At the same time, I don't see any compelling reason why he needs to recover before he is executed," Truog said. "If the state wants to proceed with the execution, and if he is stable enough to be transported from the hospital to the execution chamber, then I think that could occur at any time."
Reynolds was convicted and sentenced to death for the Jan. 11, 1994, murder of Loretta Foster, 64, his neighbor in Akron. Reynolds tried to rape the woman before strangling her and beating her with a tent pole.
Reynolds' suicide attempt prompted Gov. Ted Strickland to use his executive clemency power to grant a one-week reprieve.
Strickland, who was a prison psychologist at the Lucasville prison for eight years, said it is common for prisoners to save up their medications until they have enough for an overdose -- for themselves or another inmate.
"I'm speculating, but I'm speculating out of some experience that that's likely what happened," he told reporters yesterday.
"It is ironic, obviously, that you would work to keep someone alive when they are scheduled to be executed," Strickland said. "But my obligation, and I think the obligation of the state, is to do everything that we can to observe the law as we understand it, and that's what we're doing in this case."
Prisons spokeswoman Julie Walburn said that after recovering consciousness in the hospital, Reynolds admitted that he intentionally took an overdose of a prescription drug. She said the drug was one prescribed for Reynolds, but she declined to name it, citing medical confidentiality regulations.
She said an investigation is under way into how Reynolds, while under an around-the-clock watch on Death Row at the state's maximum-security prison, obtained drugs sufficient to cause an overdose.
Dispatch reporter Mark Niquette contributed to this story.
Copyright 2010 The Columbus Dispatch