Toxic water in Calif. prisons: Sickening inmates and costing taxpayers millions
Incidents of tainted water have spawned inmate lawsuits, expensive repairs, hefty bills for bottled water and fines
---
By Ryan Sabalow, Dale Kasler and Wes Venteicher
The Sacramento Bee
SACRAMENTO, Calif. — An inmate's death in Stockton from Legionnaires' disease marks the third time in four years the rare form of pneumonia has struck California's state prisons — and has laid bare a history of contamination and other problems plaguing water supplies in the corrections system.
Incidents of tainted water have spawned inmate lawsuits, expensive repairs, hefty bills for bottled water and fines, putting a multimillion-dollar burden on the taxpayer-funded corrections system, according to documents and court records reviewed by McClatchy.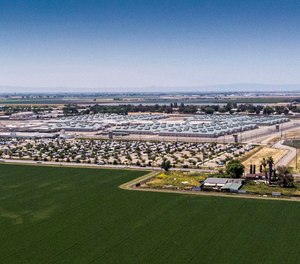 Now the state Department of Corrections and Rehabilitation, which oversees a network of 76 prisons, youth lockups and inmate firefighter camps, is dealing with a death. The fatality in early March at the California Health Care Facility, a prison hospital in Stockton, follows a Legionnaires' case earlier this year at a prison hospital in Vacaville — which went unpublicized until now — and a major outbreak that sickened 16 inmates and employees at San Quentin in 2015.
"The state should have, after San Quentin, come up with a plan to make sure this didn't happen again," said Tim Keane, a national consultant on Legionnaires' from Pennsylvania.
The Stockton Legionnaires' outbreak remains a significant problem almost two months later. The waterborne Legionnaires' bacteria sickened a second inmate at the same prison and spread to two neighboring youth correctional lockups. Officials have been forced to bring in truckloads of bottled water and impose tight restrictions that extended even to toilet flushing.
"Toilets may be flushed but stand away from the bowl when flushing," the superintendent of the two youth facilities wrote in an internal memo in mid-April. "Avoid splashing when using sink faucets to wash hands."
Corrections officials say they're working quickly to address the problem.
"Resolution of the situation in our Stockton facilities regarding Legionella is a top priority for CDCR," spokeswoman Vicky Waters said in an email, referring to the name of the bacteria that causes Legionnaires' disease. "The department is working hard to ensure the safety of inmates, wards, visitors and staff as we move forward … We always strive to ensure there is safe water for our inmates, staff, visitors, and volunteers."
Critics say it's well known that the drinking water in state prisons is substandard. A prison employee and three attorneys who represent inmates said guards, staff and inmate lawyers generally are advised not to drink the water in state prisons.
"You don't drink the water … You just don't," said Kenneth Rosenfeld, a Sacramento attorney who has visited prisons for two decades for his job.
Inmates say they have no choice.
"There's a big sign for visitors coming to the prison saying, 'Do not drink the water.' Why are they saying that to those people, if it's not a problem (for inmates)?" said Michael John Sullivan, a 59-year-old inmate who is suing the state over the water quality at Kern Valley State Prison in Delano, where he spent approximately five years. "You have to drink water to live. You cannot not have water. You're forced to drink this water that has arsenic in it."
Sullivan is now an inmate at a state prison in San Diego.
———
The California Health Care Facility, a prison hospital in south Stockton shown in aerial photograph on May 2, 2019, houses about 2,600 inmates. A patient at the prison died from Legionnaires' disease in 2018, and the inmates at the facility and two nearby youth correctional centers remain on bottled water while the water system is treated.
Sullivan's federal lawsuit says he was sickened by arsenic in the water at Kern Valley, in violation of the Eighth Amendment protection against cruel and unusual punishment. Already struggling with liver and kidney ailments when he arrived at Kern Valley in 2010, he said the water worsened his condition.
Prison officials "repeatedly denied" his requests for bottled water, he said in a handwritten legal complaint filed in 2015 in U.S. District Court in Fresno.
Water experts say excessive levels of arsenic can heighten cancer and other health risks, but only after decades of consumption. In court papers responding to Sullivan, state officials said the arsenic contamination, while it exceeded state standards, didn't represent an urgent threat. They said an outside expert predicted "zero expected health effects from the water."
Although Sullivan's case is still pending, earlier lawsuits filed by other inmates over the arsenic problem at Kern Valley were dismissed after judges agreed the health hazard wasn't severe. Nonetheless, the state did order Kern Valley to fix the problem, and prison officials completed installation of a $6 million arsenic treatment system in 2012, according to court papers.
Darrin Polhemus, deputy director of the State Water Resources Control Board, said water quality problems aren't any more pervasive at state prisons than they are with other water systems. "There's nothing there that looks like they're exceedingly bad," he said.
The problems in state prisons, however, mirror pervasive breakdowns in municipal water systems across California. A McClatchy investigation last year found that at least 6 million Californians are served by water providers that have been in violation of state standards at some point since 2012. A study published Tuesday in the journal Environmental Health estimated that more than 15,000 Californians are at risk of developing cancer over their lifetimes because of contaminated drinking water.
The Legislature is debating a proposal by Gov. Gavin Newsom to tax drinking water to raise millions for cleanup of contaminated water systems. The governor's legislation doesn't mention prisons, however, and says priority for funding should go to "disadvantaged communities and low-income households."
———
Since 1993, state regulators have cited prisons at at least 199 times for violating drinking water standards, according to a review of State Water Resources Control Board records. Most of the infractions were considered minor and the prisons were merely ordered to fix them. Only rarely did the prisons have to bring in bottled water.
"We work very closely with the State Water Board to ensure we address any issues that are raised," Waters said in her email, noting that some of the lockups that have been cited are firefighting camps that are jointly managed with Cal Fire, the state's firefighting agency.
The contaminants found in prison drinking water systems can bring all manner of health hazards.
McClatchy's analysis found 49 citations for "total coliform bacteria" at 18 different prisons and inmate firefighter camps. The presence of total coliform isn't harmful by itself but can indicate that E. coli is in the water, bringing the prospect of stomach cramps, vomiting and bloody diarrhea. E. coli can be fatal.
State records also show 53 cases of excessive arsenic in prison water. Prolonged exposure to excessive amounts of arsenic can lead to higher risks of lung, bladder and kidney cancer, as well as vascular problems.
At some state prisons, providing safe drinking water has been a chronic — and costly — problem. High Desert State Prison in Susanville has been cited a dozen times for arsenic. Centinela State Prison in Imperial has been cited 18 times, mostly for violating standards for "total trihalomethanes" — carcinogenic chemicals that can form when chlorine used to disinfect water reacts with decaying vegetation in lakes and rivers. Modern water treatment systems are designed to reduce the contamination.
Just three years after it opened in 2005, the $379 million Kern Valley State Prison in Delano was cited by state regulators for violating arsenic standards — the source of lawsuits by Sullivan and other inmates. More than a dozen notices of violation were issued before the problem was fixed in late 2012, at a cost of $6 million. The problems haven't ended there — last year regulators cited the prison for failing to test the water for lead and copper.
Meanwhile, taxpayers are on the hook for millions of dollars for the water quality problems that have afflicted Deuel Vocational Institution, a 2,400-inmate facility near Tracy.
Last summer, The Sacramento Bee reported that the state had to truck bottled water to Deuel for months at a time — at a cost of $46,000 a month — because of shutdowns caused by problems with a mechanism called a "brine concentrator." The concentrator enables the prison to dispose of 220,000 gallons a day of brackish wastewater, and when it's out of commission the entire system grinds to a halt.
The tab for bottled water represents a fraction of the cost. In a budget document, corrections officials said replacing the faulty mechanism will cost $32 million. That's as much as it cost to build the entire water treatment system a decade ago.
The problems at Deuel have also triggered fines by the State Water Resources Control Board. In 2015, the board imposed a $135,000 penalty after tests revealed excessive amounts of manganese and other contaminants for months at a time. Manganese at high levels can cause neurological problems. The water board rescinded the fine after the prison fixed the problems.
In 2017, Corrections agreed to pay a $2.3 million fine for violations at Deuel to the Central Valley Regional Water Quality Control Board, an arm of the state. The problem this time wasn't over the water served to inmates; instead, it was the "chronic toxicity" of the water being discharged from the prison into streams that feed into the Sacramento-San Joaquin Delta.
State Water Resources Control Board records show that last August, the prison had to import bottled water again, this time because an unidentified employee had neglected to order the chemicals needed to make Deuel's raw water potable. The problem was resolved four days later.
Legionnaires' often grabs the spotlight, however, as when 14 patients at a veterans home in Illinois died in 2015 or when 22 people took ill in the vicinity of Disneyland in 2017.
Legionnaires' is caused by a type of bacteria that can cause pneumonia, a severe respiratory problem that results in inflammation of the lungs. Legionnaires' is fatal in about one in 10 cases, according to the Centers for Disease Control and Prevention. The Legionella bacteria enter the lungs when contaminated water is inhaled, either through droplets in the air or if someone coughs while drinking.
The bacteria can form in the water supply if it goes stagnant or gets warm inside contained drinking water and cooling systems found at places like prisons, hospitals, hotels and cruise ships. People already afflicted with lung disease, liver or kidney failure are particularly vulnerable.
The Legionnaires' problem in Stockton is the second to hit the state prison system this year. One inmate contracted the disease at the California Medical Facility in Vacaville in January. The Vacaville case that wasn't disclosed until McClatchy asked prison officials about previous Legionnaires' incidents. The state Department of Public Health says Legionnaires' cases don't automatically have to be disclosed to the public.
"The patient (in Vacaville) received treatment, and the institution tested all other pneumonia cases, which were negative," said Waters, the prison spokeswoman. She said the prison hospital notified Solano County public health officials.
Previously, the most serious recent water-related issue to strike the California prison system was in 2015, when 13 inmates and three staff members contracted Legionnaires' at San Quentin State Prison. The state's oldest lockup has a population of more than 5,000 inmates and staff members.
No one died, but the outbreak prompted prison officials to haul in bottled water and portable toilets and cancel hot meals, showers and visits. The total cost to taxpayers was $240,000, Waters said.
In a court filing, J. Clark Kelso, the federal receiver overseeing prison health care in California, blamed the San Quentin outbreak on a buildup of sludge in the cooling towers.
Kelso declined to comment on the problems in Stockton. As for the quality of the water in California's prisons, he said "we're not seeing health-related consequences as a general matter from drinking water."
———
The first inmate in Stockton to contract Legionnaires' was John Dale Cook, 65. Cook entered the prison system in January 2018 from San Diego County on an eight-year sentence for second-degree robbery and assault with force likely to produce great bodily injury.
He was an inmate at the California Health Care Facility, a state prison hospital in Stockton. Surrounded by barbed wire, in a largely agricultural stretch of south Stockton, the six-year-old facility is the state's newest prison. It houses 2,600 inmates.
San Joaquin County public health records show that Cook already had an assortment of medical problems, including chronic hepatitis C — making him particularly vulnerable to Legionnaires'.
On March 3, he was transferred to San Joaquin General Hospital in French Camp, according to county records. Four days later, just before 6 a.m., he died at the French Camp hospital, county records show.
His death certificate lists no next of kin.
The day after post-mortem results in early March revealed that his death was caused by Legionnaires', officials began testing inmates with pneumonia at the prison hospital. After the second inmate was diagnosed with Legionnaires' about two weeks later, officials halted patient admissions at the affected housing unit and put up notifications around the hospital.
"The department's response was quick and swift, as the safety and security of inmates and staff is top priority," said Department of Corrections spokeswoman Liz Gransee. The second inmate, who hasn't been publicly identified, has been recovering from the illness.
Internal emails obtained by McClatchy and information provided by corrections officials show that a swift conclusion to the outbreak has been elusive.
On March 22, the same day the second inmate was diagnosed with Legionnaires', prison officials issued an alert to staff at two lockups immediately adjacent to the prison hospital: the N.A. Chaderjian and O.H. Close youth correctional facilities, which house a total of 410 boys and young men.
"At this time DO NOT use or drink the water until further notice," Linda Bridges, superintendent of the youth prisons, said in an email to staff. "Bottled water will be issued as we take this precautionary measure."
Two weeks later, it appeared the problem was clearing up. On April 12, Bridges sent an email bottled water was no longer needed in the youth complex.
On April 16, however, a staff email suggested that the problem was more widespread than previously believed. "Legionella bacteria is detected throughout the facility," a prison official said in the email.
That same day, bottled water and other restrictions were imposed again at the youth facilities, "in an abundance of caution," a staff memo reported. The memo noted that no cases of Legionnaires' were found at the youth prisons. It was in this same memo, obtained by McClatchy, that warnings were issued about standing away from toilets being flushed and avoiding splashing while washing hands.
The bottled water didn't arrive quickly enough, at least two employees at the youth prisons complained.
"We are not receiving sufficient amount of bottled water," wrote staff member Chris Golden in an April 18 email. "Also, some of our youth and staff are frustrated and concerned on (sic) the safety of this situation."
Bradley Kirtz, another staffer at a different building in the same facility, wrote the same day: "WE NEED A LOT MORE WATER THAN WHAT WE ARE RECEIVING. AS OF THIS EMAIL WE HAVE NO WATER TO DISTRIBUTE. HELP!" A follow-up email about 45 minutes later showed that three cases of water had just been delivered.
On April 18, Corrections issued a press release revealing for the first time that the bacteria had turned up at the two youth facilities. They also said filtered showerheads were being installed in addition to other precautions.
All three prisons, plus a training center, remain on bottled water. Corrections officials announced April 24 they were beginning a process called hyperchlorination to eliminate the bacteria from the water system. "It will take place between 7 a.m. and 5 p.m. seven days a week until all plumbed water supply lines and fixtures in the approximately 115 buildings at the Stockton facilities have been treated," the state announced.
The cause of the bacteria outbreak hasn't yet been determined. Prison officials have yet to compile an estimate of how much the outbreak will cost.
———
Keane, the consulting engineer at Legionella Risk Management Inc. in Pennsylvania, said the outbreak in Stockton suggests the potential for a more widespread problem.
"For them to test the water and find Legionella everywhere, something's systemically wrong," said Keane, who was brought in by Illinois officials to evaluate the water system at the veterans' home that saw a fatal outbreak in 2015. "It's not an anomaly, it's not something that just popped up, there's something very wrong. It could be the design of the system; it could be the maintenance of the system."
Keane said prisons often keep the temperature of water delivered at faucets and showerheads below 120 degrees to prevent the water from being used to scald inmates and guards. That temperature is too low to kill Legionella, he said.
Keane suggested prisons should store their water at least 140 degrees and then mix it with cooler water from a disinfected public supply to keep it safe.
Waters, the prison spokeswoman, didn't directly address Keane's criticisms, but she said water systems vary widely across the dozens of state institutions.
"For example, we have hot water loop systems, hot water systems that may serve only a single building, and tank-less water heaters, to name a few," she said.
Although the three prison facilities get their water from Stockton's municipal system, city officials said they weren't concerned the bacteria would spread to other customers.
"We are confident there is no issue with the City of Stockton municipal water supply," city spokeswoman Connie Cochran said in an email. "We test our water regularly, and all City water tests confirm the water delivered meets state and federal requirements." The state Department of Public Health, which has been working with Corrections on the outbreak, believes "there was no increased risk to the community at large," said spokesman Jorge De La Cruz.
Back inside the prison walls, one employee said concerns about drinking water have been a longstanding issue. Beto Gutierrez, a social studies teacher at the Chaderjian Youth Correctional Facility, said it's common practice among employees to avoid tap water — well before the Legionnaires' outbreak.
Gutierrez said he initially assumed the water was safe to drink when he was hired four years ago.
"Seeing that the guys were drinking water — the inmates — on a regular basis, I said, 'Why not? … If it's good for them it's good for me,'" he said. "A couple of my colleagues actually offered me water bottles. I was very surprised that people would go so far as handing you a water bottle just to see you not drinking (tap) water if you're a staffer."
Donald Specter, executive director of the Prison Law Office, a Berkeley nonprofit that provides legal services to state prisoners, said Gutierrez's concerns are widespread among the staff of California's prison system.
"The staff doesn't want to drink the water, which for what it's worth, is some sign of a problem," Specter said.
Waters said state prisons don't restrict water consumption "unless there is a safety issue."
Sullivan, the inmate who filed the lawsuit about the Kern Valley arsenic, has been drinking prison water for years. He might have years more to go. He entered the prison system in 2004 on a life sentence for his third felony after he said he "copped to" bank robbery charges in Contra Costa County. His next parole suitability hearing isn't scheduled until 2021.
In the meantime, he has since been transferred to the medical center at Richard J. Donovan Correctional Facility in San Diego, where he says he's being treated for various ailments including hepatitis C and problems with his spine, joints and stomach.
He's worried that his daily exposure to the arsenic in the Kern Valley prison's water for years may yet cause health problems that wouldn't show until after he's released.
"Tying it to the arsenic might be a difficult task that late in the game. You know what I mean?" Sullivan said. "You're just basically shaving years off my life expectancy off the other end. You know what I'm sayin'?"
———
©2019 The Sacramento Bee (Sacramento, Calif.)
Distributed by Tribune Content Agency, LLC.
McClatchy-Tribune News Service