40 Colo. sheriffs oppose Guantanamo detainee transfer
The sheriffs argued in the letter sent Monday that Colorado would be in danger if the Pentagon sends Guantanamo detainees to either of two prisons under consideration in the central part of the state
---
By Kristen Wyatt
Associated Press
DENVER — Forty sheriffs in Colorado wrote to the White House to oppose any plan to move detainees from the detention center in Guantanamo Bay, Cuba, to prisons in the state.
The sheriffs argued in the letter sent Monday that Colorado would be in danger if the Pentagon sends Guantanamo detainees to either of two prisons under consideration in the central part of the state.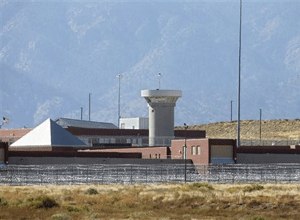 Although the prisons are capable of securing the detainees, the action would attract "sympathizers who would mount an attack ... or commit other acts of terror," the lawmen wrote.
"We believe it would be dangerously naive not to recognize that a civilian prison with an untold number of enemy combatant inmates, located in our state, would provide a very tempting target for anyone wishing to either free these detainees or simply wishing to make a political statement," the sheriffs wrote.
It was sent a day before Congress overwhelmingly passed a defense spending bill Tuesday that would bar President Barack Obama from moving Guantanamo detainees to U.S. soil. The White House has hinted the president could use his executive authority to accomplish the move, regardless of what Congress does.
The letter was signed by many of Colorado's 64 sheriffs. The top signer is Fremont County Sheriff James Beicker, whose county includes the two facilities under consideration, Colorado State Penitentiary II and the Federal Correctional Complex, known as Supermax.
Supermax already houses some of the country's most dangerous criminals, including Unabomber Ted Kaczynski and Boston Marathon bomber Dzhokhar Tsarnaev. Terrorists such as Zacarias Moussaoui, the only person convicted in civilian court of the Sept. 11 attacks, and Ramzi Yousef, mastermind of the 1993 World Trade Center bombing, also reside there.
The Pentagon also is looking at sites in Kansas and South Carolina for its proposal to move some 53 Guantanamo detainees eligible for transfer. Any decision to select a U.S. facility would require congressional approval — something U.S. lawmakers say is unlikely.