Pope appeals for humane prisons after deadly Brazil prison riot
Several inmates were beheaded or dismembered in the worst bloodshed at a Brazilian prison since 1992
---
Associated Press
VATICAN CITY — Pope Francis has prayed for those who were killed in this week's Brazil prison riots, saying penitentiary conditions must be 'worthy of human persons."
Francis invited faithful at his weekly Wednesday audience at the Vatican to pray for the 60 who died in gang fights in the Brazil Amazon region prisons and their families, as well as inmates and prison workers worldwide.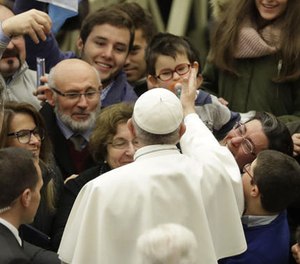 He said he was "pained and concerned" about what happened in Brazil. He renewed his appeal so that prisons would be "places of re-education" and "not overcrowded but places for re-insertion" in society after sentences are served.
Throughout his papacy, Francis has pressed for better prison conditions and the need for rehabilitation of inmates. He has also denounced life imprisonment as a virtual death sentence.