3 types of interactions between the trainer and the 'new boot'
The relationship between any field trainer and a recruit should start by them building a rapport with each other based on mutual respect
---
Many corrections agencies are experiencing staffing shortfalls. As a result, we have to make sure we retain the good people who come our way out of the corrections academy.
Supervisors entrust field training officers (FTOs) with an important responsibility: the training of new correctional officers (COs). The first day is crucial as trainers want to get the on-the-job training (OJT) process started correctly.
FTOs mold new officers into professional and conscientious team members who will hopefully stay with the agency. At the same time, never has the concept of making a good first impression been more important than the day the new corrections officer reports to the training officer. They are nervous, anxious and apprehensive.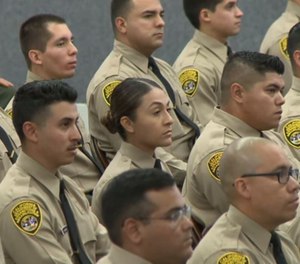 I believe there are three levels to interactions between FTOs and new COs: formal, informal and "grassroots." Here are some suggestions for improving those interactions.
Formal interactions
Procedures and policies are written to guide staff in the training and development of new correctional officers. Carefully screened, senior veteran staff with good records should serve in training assignments and develop protocols for good working relationships including reviewing the academy curriculum and its application to the duties of the new correctional officer.
During a Tier Talk podcast that I participated in earlier this year, host Anthony Gangi and several corrections veterans shared some good insights into this process:
The training academy and agency must act in partnership to properly train the new CO. There should be a balance between academy learning and the knowledge of the experienced trainer. The rookie should pay attention to both the academy material and the experiences of veterans. The trainer facilitates the application of experience to what is learned in the academy.
The trainer should determine the level of knowledge of the trainee. The trainer has to determine if the new CO asks appropriate questions and can take direction. This helps the trainer turn theoretical material to practical application. For example, the new CO learns in the academy the various signs and symptoms of mental illness in offenders. How can that information be applied to the safe management of inmates in custody?
The new CO should be afforded respect from the top "brass" down to line supervisors. New COs have made a career choice, and have talents and enthusiasm, which should be complimented and acknowledged. I remember the warm feeling I felt as a new jail officer when a captain, lieutenant or major stopped by my post and asked me how I was doing ‒ and meant it.
Informal interactions
When new COs walk into a facility they experience a whirlwind of activity. There are new post orders to read, several tasks to handle at once, security concerns, and many inmate personalities and types to deal with. Corrections One columnist Dr. Matt Stiehm lists several helpful hints for the new CO when reporting for duty:
Listen during briefings: Get to work early, sit down and pay attention during briefings. By doing so, you will learn and be aware of what is going on inside the facility. 
Soak it up like a sponge: Prepare yourself to learn a lot of information. Ask questions for clarification. Two things are important: knowing what to ask and when to ask it. Also, ask questions when in a controlled, safe environment, not in the middle of an inmate search or cell extraction.
Read…read…READ! Become familiar with policies, procedures and post orders. Read them frequently; they add to your professionalism as a CO. The written word is a guide that sets the tone for the facility and advises you on how to handle situations and different types of inmates. Some written guidelines are very strict, such as counts, handling special populations, searches, etc. If you do not understand a written memo, directive, a post order or procedure, ask for clarification from your supervisor. Written guidelines can keep you safe.
Grassroots interactions
What do correctional trainers and new officers currently on the front lines have to say about effective interactions? I asked veteran jail deputy sheriff and training officer James C. Velez of the Alexandria (Virginia) Sheriff's Office, who trains new jail deputies:
The relationship between any field trainer and a recruit should start by them building a rapport with each other and developing mutual respect. Once that is established, the field trainer should let the recruit feel at ease by reinforcing that they will be their trainer, mentor and coach all wrapped up in one. The field trainer should express that they will give a 100% effort to make sure both succeed and that they will need the same from them. The field trainer should be firm but fair, patient and professional and listen when the recruit asks questions. The field trainer should not waste time, be demeaning, arrogant or lazy. They must always be positive and let the recruit feel they will always be helpful. The mission for the field trainer is that they are shaping the next generation of law enforcement in this country. This should always be on the field trainer's mind to keep the public's experience of law enforcement positive, no matter whether you are a jail deputy, a courthouse deputy or an officer on the road."
In addition, a new jail deputy assigned to Deputy Velez wrote:
The first day can always be hard. Day one comes with its hardships and obstacles that can only be dealt with on the spot. As a citizen looking to become a law enforcement officer, nothing prepares you for the job in a correctional setting. Day one with an FTD (Field Training Deputy) is pivotal in the career of a young deputy. My first day was full of excitement and "what if" questions. Thankfully, my FTD was genuine and objective with how our first day was to go. First impressions are key in determining the tone for the next couple of months and as a young deputy, I was dead set on making sure I made a good impression. As a recruit, we are told to not sit in roll call, but to stand and make sure we are looking sharp and ready. Before the start of roll call, I was nervous but was quickly welcomed and greeted by all deputies, old and young. From the start, my FTD shook my hand and assured me he was going to do his utmost best to get me started on the right track. A positive and contagious attitude goes a long way toward making a young deputy feel safe and ready to take on the role of a corrections deputy."  
In closing, a good journey for a corrections career in your agency starts with building good, professional relationships among the new corrections officers, academy staff, agency trainers and supervisors from day one. Those relationships build the future; they are the facility's legacy.
NEXT: How a new CO handles taking the point on the mess line