5 resume-writing tips for correctional leaders
Getting an interview largely depends on your resume – here are five keys to successful resume-writing for corrections executives
---
By Rob Hall
If you want a professional job, you must present yourself as a professional. Your resume and cover letter are the first – sometimes most important – means of doing so. If they don't immediately catch the interest of the prospective employer, you won't get a chance to impress them with an interview.
There are numerous means of creating resumes. Many professional resume writers will be only too happy to craft your resume for you – for a fee, of course, but a resume written by someone who's never worked in corrections is not likely to adequately fit the bill. Corrections is a singular and unique profession that requires a resume tailored to the nature of that profession.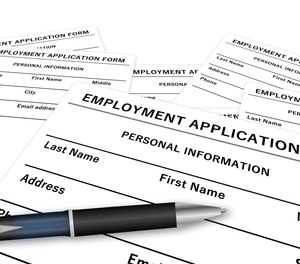 The bottom line is that your resume should professionally reflect who you are, what you care about and what you are qualified to do. There are a few universal truths about resumes that should be noted and adhered to religiously.
1. Remember to KISS
You are conveying information that is crucial to your career future in a visual format, so neatness counts! The KISS principle – keep it simple, stupid! – is in full effect here. You need the information to be professional in appearance, easy to process and easy on the eyes. For the basic material, use between a 10- and 12-point font size and at least ½-inch margins. You can go up a couple of points for headings like "Training" and "Education," but don't go crazy because bigger is not better. 
Keep the use of bold font to a minimum – you don't want to detract from the flow of the information. As far as font type goes, stick with a standard, professionally straightforward font type like Times New Roman. And for goodness sake, don't get cute with clip art or visual embellishments that have nothing to do with telling them what you bring to the table. 
2. Proofread, Proofread, Proofread!
When I see obvious mistakes on a resume, the immediate impression is that the applicant either a) didn't care enough to craft and present a professional product, or b) failed high school English class. Either way, the visual presentation is already severely undercutting the material contained in the resume. 
Imagine you are the employer. The door opens and in walks an applicant wearing a dirty "Hello, Kitty!" t-shirt, looking like he hasn't seen the inside of a shower in a week. How hard will it be for him to counter the first impression he's just created in your mind? 
Your resume is your first impression, and you want it to be sharp, not counter-productive. It will take roughly 15 to 30 seconds for your resume to make an impression, so make it a good one.
3. Never Lie! 
This should be a no-brainer, but it's amazing how many candidates – even for corrections jobs! – think they can get away with falsehoods on their resume. 
Don't make false claims regarding your training and experience in corrections, don't exaggerate numbers or accomplishments – just tell the truth. If you don't, sooner or later it will come back to bite you, and could do severe and lasting damage to your career.
4. Be Cognizant of Document Length
While some prescribe "one page for every 10 years of experience" on your resume, there is no formula written in stone, with one caveat. Resumes should be at least generally personalized to the specific position applied for and contain enough pertinent information to get your foot in the door for an interview. 
You may be able to accomplish that on one page or it may take two, depending on the depth and breadth of your experience. Here's the caveat: unless you've had an incredible career for several decades, with an amazing range of experiences and accomplishments, anything beyond two pages will likely be perceived as "filler" and will work against you. 
Noteworthy training and skills should be included on your resume, but don't feel compelled to list them all – you want to list representative trainings that will best reflect your preparation for the job as described in the advertisement.
5. Personalize the Content
A resume should be a fluid document, tweaked to emphasize the skills needed for a specific position and department. Have several resumes on your computer from which you can create a document that best fits the position description provided by the jurisdiction. Study the description for statements and clues for what they are looking for in a supervisor. 
Take that information and structure your resume in such a way that it emphasizes your experience and training that best applies to their needs and desires. As with personal interviews, employers form a preliminary opinion of the applicant in the first two minutes or less. Move your greatest selling points to the first third of your resume to catch their interest, and don't be afraid to shift the order around to meet the needs of different jurisdictions.
Remember that your resume should reflect the high points of your career, with supporting material about specific accomplishments. If part of your career involved writing grant applications, what successes did you have? Did you conduct in-house training? If so, in what?  
Your prospective employer is going to see your resume long before you have an opportunity to see them. A simple and professional resume allows you to create an excellent first impression and paves the way for your job interview. Make it a good one!
---
About the author
Rob Hall began his law enforcement career in 1994 as a volunteer for the Oklahoma County Sheriff's Office. Hired by the S.O. on January 1, 1995, he was fewer than five months into his career as a cop and just five blocks away from the Murrah Building when it was blown up at 9:02 a.m. on April 19, 1995. That incident defined many things for the rest of his life, including his dedication to law enforcement. In the years that followed, Hall has served as a patrol deputy, drug investigator (including a four-month stint in deep cover), homicide investigator, investigations supervisor, assistant chief and chief of police.