SD county OKs $4,000 signing bonuses for new correctional officers
There has been a 62% decrease in qualified applicants and 32% of those hired leave in the first 12 months
---
By Siandhara Bonnet
Rapid City Journal, S.D.
        
RAPID CITY, S.D. — Newly hired correctional officers could receive a $4,000 signing bonus after the Pennington County Commission approved an incentive program on Tuesday.
Sheriff Kevin Thom, whose department oversees the county jail and juvenile facilities, said the bonuses would be distributed over 18 months — $1,000 upon hiring and another $1,000 each six months after that.
The money will come from the sheriff's office's budget.
According to information presented to county commissioners, there has been a 62% decrease in qualified applicants for these positions and 32% of those hired leave their jobs in the first 12 months. In the last hiring round, there were 12 open positions and five applicants were interviewed.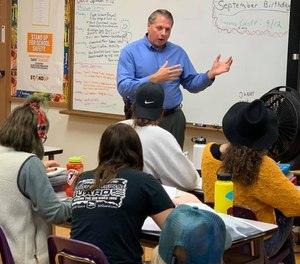 According to the employment website Indeed, the hiring bonus is already listed with correctional officer positions along with a salary that ranges from $22.80 to $25.17 an hour. Officers can work eight- to 12-hour shifts, need to be 20 or older, have a South Dakota driver's license, a high school diploma or GED, and no felony convictions.
Thom said the department now employs 120 correctional officers.
Steph McCoy of the sheriff's office said 21 correctional officers were hired in 2020 for adult and juvenile facilities. Of that group, 13 remain employed, she said.
This year, 14 of 19 officers hired continue to work for the sheriff's office.
"The intention of this (bonuses) being spread out hopefully attracts some attention to get more applicants," McCoy said.
McCoy said they've heard people are leaving because if they're out of state, they don't have a support system here. She said there's also a few who do six months on the job and decide it's not for them.
"I don't know that this will be the answer to recruiting and retention, we've put in place a lot of pieces over the years," McCoy said. "I think every piece makes a difference to each individual person whether it's career advancement they want faster, more money they want faster."
(c)2021 Rapid City Journal, S.D.
McClatchy-Tribune News Service