3 Ill. county COs save inmate's life from overdose
The inmate had just returned from work release when he collapsed in the shower
---
By Sarah Sinning
WAUKEGAN, Ill. — Three Lake County correctional officers are being lauded for their quick action that saved the life of an overdosing inmate.
According to a statement from the sheriff's office, Correctional Officers David Juarez and Daniel Pennington were conducting rounds in the Community Based Correctional Center on the night of June 2, when they discovered an unresponsive inmate in the shower. After assessing his condition, they concluded he was suffering from a drug overdose and called out to Correctional Officer Mark Gaines, who rushed a dose of Naloxone to their location.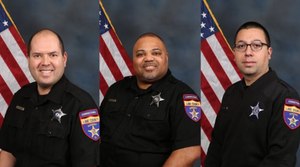 The inmate regained consciousness after receiving the medication, administered by CO Gaines, and was transported to a local hospital for evaluation. 
Further investigation revealed that the inmate had ingested opioids while out on work release.
"It is always a top priority to treat those in our custody with dignity and respect," said Sheriff John D. Idleburg in the statement. "The quick life-saving actions by Correctional Officers Juarez, Pennington, and Gaines perfectly highlight this philosophy and I am extremely proud of them for saving the life of an inmate."