CDCR transportation officers help save mom, baby after car crash
The COs noticed a car veer off the highway and roll about six times while they were returning to Valley State Prison during a medical transport
---
By Sarah Calams
CHOWCHILLA, Calif. — Two CDCR transportation officers saved a mom and her baby following a rollover crash on Sept. 23. 
Correctional officers William Mayfield and G. Gomez noticed a car veer off the highway and roll about six times while they were returning to Valley State Prison during a medical transport, according to CDCR. The car came to a rest on its roof, and the COs pulled over to call 911.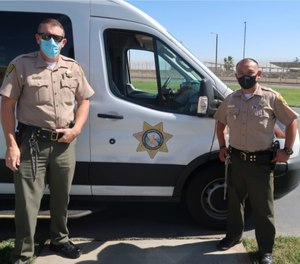 Gomez stayed in the vehicle with the incarcerated individual, while Mayfield ran to the scene of the crash. When he arrived, he found the driver, a woman, crawling out of her driver's side window. She began yelling, "My baby!"
The baby was hanging upside — still buckled in the carseat — in the backseat of the car. The baby's cries suddenly stopped while Mayfield attempted to free the baby. Mayfield rubbed the baby's face and chest, and the baby gasped, took a breath and started to cry again. 
Soon after, first responders arrived on scene to transport the woman and her baby to the hospital. After giving their report to police, Gomez and Mayfield proceeded with their scheduled transport.