CO who was shot at Calif. jail dies from injuries five years later
Toamalama Scanlan had been hospitalized since the September 2016 shooting
---
By Bryant-Jon Anteola
The Fresno Bee
        
FRESNO, Calif. — Toamalama Scanlan, a Fresno County Sheriff's officer who was shot five years ago while working at the Fresno County Jail, succumbed to his injuries Tuesday at Kindred Hospital in Paramount and died.
Scanlan, 46, had been hospitalized since the September 2016 shooting when Thong Vang of Fresno opened fire and seriously injured him and fellow officer Juanita Davila.
Both Scanlan and Davila were unarmed at the time of the shooting.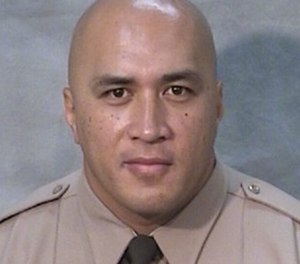 In March 2018, Vang was found guilty of attempted murder and sentenced to 112 years to life in prison. Vang testified that he was high on methamphetamine, paranoid and looking for help when he went into the jail lobby on Sept. 3, 2016.
On that fateful morning inside the jail lobby, Scanlan was shot after responding to Davila's plea for help.
"Officer Scanlan was a brave man, and was selfless," said longtime correction officer Eulalio Gomez, who was president of the Fresno County Public Safety Association at the time but has since retired. "He brought a taser to a gunfight. That's all he had at the time to help."
The Fresno County Sheriff's Office announced Scanlan's death Tuesday evening.
When reached over the phone, Davila deferred comment to Gomez, who has become a liaison for the family regarding public comment.
"You know, in any critical incident, there's the possibility of (post traumatic stress disorder) and that pain is brought back again to the forefront," Gomez said. "You relive the incident. You relive the pain. And it hurts that much more when your co-worker passes away."
Scanlan began his career with Fresno County Probation in June 1998 before joining the Fresno County Sheriff's Office in April 2006.
He'd been promoted to Correctional Officer IV in August 2012 and was assigned to Population Management at the time he was shot.
Scanlan played football for Fresno State, including in 1996 during longtime Bulldogs coach Jim Sweeney's final season.
Scanlan later served as a volunteer football assistant at Fresno Christian High.
He was known bellowing Samoan chants and maintaining a positive spirit.
At the hospital immediately following the shooting, Scanlan gave a thumbs up as a sign of encouragement while lying on a gurney, according to Gomez.
Scanlan also was well respected — not just by co-workers but even by inmates and past criminals with former and current gang members asking officers how Scanlan was doing.
"As a retiree, I've come in contact with a number of ex-inmates they'd ask how Scanlan was doing," Gomez said. "He was so respected, ex-gang members and gang members said they were praying for his recovery. He just left a big footprint in many lives. But his passing breaks so many hearts as well."
Scanlan leaves behind his wife, Tepatasi, and six children.

(c)2021 The Fresno Bee (Fresno, Calif.)
McClatchy-Tribune News Service