N.Y. county COs honored for role in ending hostage situation
The four officers worked together to disarm an inmate who had taken a nurse hostage during a medical checkup last summer
---
By Jacob Fries
Lockport Union-Sun & Journal
        
NIAGARA COUNTY, N.Y. — Four Niagara County corrections officers were recognized at the start of Tuesday's Niagara County Legislature meeting for their roles in ending a hostage situation at the Niagara County Jail this past July.
Sheri Schwartz, Michael Schiavitti, Kelly Milks, and Richard Blackburn were all recognized with the Correction Officer of the Year Award by the New York State Sheriffs' Association.
The officers were nominated due to their teamwork in being able to resolve the hostage situation July 29 at the Niagara County Jail.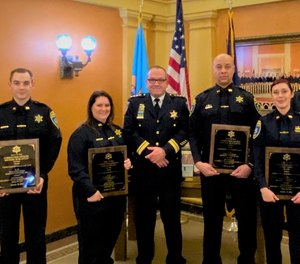 The incident occurred when inmate Mathew Buck of Niagara Falls overpowered a nurse during a medical checkup and took her as a hostage in order to escape. Officer Schiavatti was the first on the scene, and attempted to de-escalate the situation. After Buck's refusal to stand down, Schiavatti moved in to disarm him once officers Milks and Schwartz arrived on the scene. As the three officers attempted to disarm Buck and free the nurse, Blackburn arrived on the scene as well, and assisted them in wrestling Buck to the ground. Once on the ground, Milks and Schwartz took the nurse to safety while Blackburn, Schiavatti, and other responding officers restrained Buck.
Niagara Sheriff Michael Filicetti said they wanted to honor all four officers involved in the situation, since it took a team approach to resolve it.
"In this instance, we sent the nominations in for all four officers to the New York State Sheriffs' Association," said Filicetti, "and in choosing this nomination said they would give this to all four, because it was a contribution of all four officers to end this situation."
Blackburn stated that resolving such a situation involves quick action in the moment, and that one doesn't really get the chance to think about it until it's over.
"During the process, it's work," he explained Tuesday. "There was an emergency call, the adrenaline goes, like when you respond to every call like, it's game-time, it's work. Afterward is when it really sets in, and you get a chance to think about it."
Blackburn also emphasized his gratitude for the fellow officers being awarded, as well as all the other officers involved in helping out that day.
"I feel bad because the awards have to stop somewhere," he said. "After I responded, there were other officers that responded who helped out and did their part. I wish it could just be the entire shift in that ward. I can't say enough about the team."
After the four corrections officers were presented with their award, Filicetti then bestowed the Innovative Program of the Year Award to the "Building Bridges Program, which was launched in 2020. The program entails community outreach, where sheriff's deputies accompany children on trips in the community such as to the Maid of the Mist, and Aquarium of Niagara.
"They could see the personable side of law enforcement, as opposed to seeing emergency responses in their neighborhood, or only calling the police when something bad is going on." stated Lt. Daniel Zimmerman of the Niagara County Sheriff's Office. "They can see the side of us that's an everyday person."
Zimmerman has stated that he's been on every excursion of the "Building Bridges Program."
     ___
     (c)2022 the Lockport Union-Sun & Journal (Lockport, N.Y.)
McClatchy-Tribune News Service