5 ways to improve PREA compliance in correctional facilities
Getting staff to understand the Prison Rape Elimination Act and see it as valuable helps create a culture that supports compliance
---
Though the Prison Rape Elimination Act (PREA) is a positive step toward the awareness, prevention and reporting of sexual assaults in confinement, the resulting standards and requirements placed on facilities do not always evoke a positive reaction from staff.
Since PREA was first signed into law in 2003, correctional officers have indicated they feel the standards are too rigid, shouldn't apply to all facilities, should be voluntary or are too focused on LGBTI inmates. Some officers believe the federal government intrudes too much into local facility policies and that the standards create extra work for no good reason. Sound familiar?
These complaints are common from officers in prisons, jails, lockups, juvenile institutions and community confinement facilities, all of which are required to comply with PREA.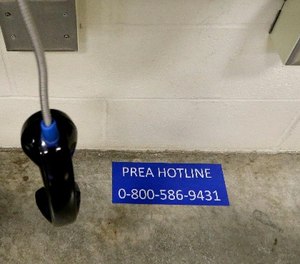 Being a PREA-certified auditor and correctional facility consultant who conducts a lot of PREA work in facilities nationwide, I am not surprised and never discouraged to hear these kinds of complaints. PREA is a lot of work! But I also see its value and believe correctional officers are more likely to get behind the effort and dislike it less if leadership explains PREA-related policies in a way that makes sense.
Here are a few points that might help.
1. Explain the reason behind new PREA-related policies
When staff in intake get a new screening tool and are told to ask all inmates a series of sensitive questions and then score responses, all they can think of is how much time it will add to the intake process. They may also be concerned about asking what they see as embarrassing questions, as well as be frustrated at yet another form they have to keep track of.
When introducing PREA-related policy, take a few minutes to explain to correctional facility personnel the reason behind the screening so they don't just see it as another task unconnected with their role as a correctional officer.
I would explain that the reason we ask questions about sexual victimization or LGBTI status is to find out who could be a vulnerable inmate at risk of sexual assault. Then I like to connect the reason for the screening (if we don't know who is a potential victim, we might inadvertently house them with a potential predator) and then the potential impact on staff (if we house them improperly, you then may have to respond to a sexual assault, see sometimes unimaginable trauma, write a lengthy incident report, be questioned by investigators and be named in a lawsuit).
We don't need or want more prison rape victims and these incidents can take a toll on staff. If correctional officers understand the reason behind a new initiative, they are more likely to support it.  
2. Outline how PREA benefits staff
Though I always spend time discussing the inmate safety intent of PREA and how policy implementation often results in a decrease in violence, I also tell staff how PREA's standards can positively affect them and their work.
I provide examples of a reporting culture and how that makes the shift safer for staff. I talk about how shutting down sexual abuse as favors or payment for debts leads to less violence and instability overall, as well as fewer victims. I let them know they'll have better quality new officer hires and that the facility will consider sexual harassment histories of new and promoted staff. Sometimes we need to connect these dots for staff so they understand the value to them behind a PREA-related change.
3. Personalize the policy
When I work with correctional officers I personalize examples to illustrate why PREA standards are in place. I might ask, "Does anyone know a girl or woman who has been raped or molested? OK, now imagine this person you care about gets arrested for something small, enters a jail intake and is going to get pat searched (frisked) by a male officer. Maybe he even resembles her molester. He's going to put his hands all over her, right? She may lose it right there from feeling that old trauma come back. Would you prefer that given her history, a female officer search this girl you know instead?" Everyone says yes to this example.
Then I explain that we know they are all professionals and would search any person professionally, but the reason PREA says males don't pat search females is because we don't know who has that past history, and many women do. We don't need to unnecessarily re-traumatize previous victims and escalate emotions when we could lower the risk for escalating behavior that then requires a stronger response from security staff. When staff can see a situation through their own family or friend's eyes, they are more able to understand the reason behind the standard.
4. Explain that PREA is nationwide
Some jail staff may think a new policy is not required by their jurisdiction and wonder why such changes are being made. Tell them all facilities are subject to the same changes due to this federal law.
5. Show your support
As a correctional leader, your message is the one staff pay attention to in order to gauge the value and importance of anything new to the facility.
If you comment that PREA is an "unfunded federal mandate" or "something we unfortunately have to do," then that is what your staff will think as well, and their commitment to passing an audit or appreciating what PREA does to protect staff and facilities will be non-existent.
Even if you don't feel strongly about every standard, push the value to staff. Modern correctional leaders know the importance of:
Reporting every incident;
Taking reports even if they come in anonymously;
Ensuring a prompt and thorough investigation;
Ensuring staff know the four first responder steps;
Making unannounced tours;
Protecting vulnerable inmates from sexual assaults.
Getting staff to understand PREA and see it as valuable is a big part of creating a culture that supports compliance. This is possible with the right messaging.
Don't be too critical of officers who don't appreciate how PREA policies improve correctional facility operations. Instead, take this as an opportunity to expand your staff's knowledge and make your facility less prone to sexual assaults, prison rape and lawsuits. It's worth the time and effort to get it right.