3 escaped Indiana prisoners at large
---
By Robert Mitchum
Chicago Tribune
MICHIGAN CITY, Ind. — Authorities launched a manhunt near the Indiana State Prison in Michigan City, Ind., Sunday after two convicted murders and a rapist escaped from the maximum-security facility through underground tunnels, officials said.
Prison officials discovered that the three men were missing after a routine inmate count taken about 10 a.m. Sunday, said John Schrader, a spokesman for the Indiana Department of Corrections. After guards failed to find the offenders in the facility, officers from several law-enforcement agencies began searching the community surrounding the prison, Schrader said.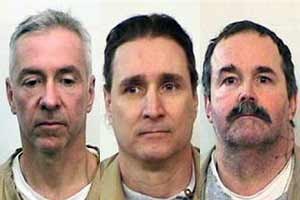 The escaped inmates were identified as Charles Smith, 48, sentenced in 1999 to 95 years for murder; Mark Booher, 46, sentenced in 1999 to 85 years for murder and felony robbery; and Lance Battreal, 45, who was sentenced to 53 years in 1998 for rape, criminal confinement and stalking.
All three men were incarcerated in the same housing unit of the prison, located about 60 miles east-southeast of downtown Chicago, and were present during the previous inmate count, taken about 5 a.m. Sunday, Schrader said. The men appeared to have escaped through underground tunnels, he said.
"There are bars and locks ... but they were able to get by that," Schrader said.
The escape is the prison's first since 2001, Schrader said.
The escapees should be considered dangerous because of their violent pasts, officials said.
Copyright 2009 Chicago Tribune Company