Book review: The Right Wrong Thing, By Ellen Kirschman
In the follow-up to Bury Ben, Kirschman delves into the hot topic of OIS and how they affect not only communities, but the officers involved
---
Ellen Kirschman's new book, The Right Wrong Thing, is available today via Amazon.
This novel could not have come out at a better time in America with the political and public scrutiny of law enforcement today.
Author Ellen Kirschman shares her 30 years of police psychologist experience in her characters, whose flaws are as refreshing as their strengths. Kirschman takes us on a journey through humanity, accountability, resilience, relationships, and what it means to stand the tests of time. The Right Wrong Thing covers important issues like Post Traumatic Stress Disorder, the fine line of ethical boundaries, organizational stress, and what police personnel go through after an officer-involved shooting.
With recent officer-involved shootings and racial intolerance issues, the media has bombarded our televisions and further straining relations between law enforcement and our communities. Kirschman sheds light on everyone involved in the aftermath when the unfortunate event of an officer-involved shooting touches a city.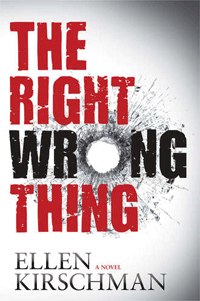 Dr. Dot Meyerhoff returns in Kirschman's second novel succeeding Burying Ben as the psychologist for the Kenilworth Police Department. The book opens with Dot interviewing Randy Alderson Spelling for her psychological screening to join KPD. Born into a law enforcement family, Randy has always wanted to become a police officer. Dot passes Randy and her life-long dream comes true. Soon after, she is done with her training and on the streets. Randy then takes part in an officer-involved shooting where Lakeisha Gibbs, a black pregnant teenager, is killed.
Randy is then diagnosed with PTSD and Dot is back in Randy's life, trying to help her through the trauma. Randy is adamant about apologizing to Lakeisha's family. Dot and the police chief advise Randy against doing this, but she refuses to listen, creating disaster and tragedy.
Dot operates as a risky yet vulnerable woman who cannot avoid the questions her inquisitive mind poses her to seek answers to. Tenacious, Dot again finds herself in trouble going against the police chief's orders to remain uninvolved in the investigation. Dot feels she must get to the bottom of things, regardless of the police chief's orders.
Dot becomes like an undercover agent in constant pursuit of answers starting a tangled web of twists and turns. She risks her life as well as the lives of others as she attempts to do the right wrong thing.
Kirschman has proven yet again to be a brilliant author whose deadpan comedic delivery brightens the pages and her visionary detail paints a picture like you are right there with protagonist Dot, looking over her shoulder. I was engrossed by every word, at the edge of my seat for each chapter ahead, and impatiently awaited the big solution to the who-dun-it. I was surprised all along the way.
Interview With the Author
Q: What made you pick this topic for The Right Wrong Thing?
Over the years, I have treated several officers who have killed someone in the line of duty. The Right Wrong Thing was inspired by one particular client who struggled with PTSD after a controversial shooting. The fact that the shooting was ultimately deemed justified didn't help. 
Q: Is there a message in your novel that you hope readers will grasp?
That police officers are human and that police work is very complex and psychologically challenging.
Q: This book is part of a series; tell us a little about it?
My intention is to tackle current issues in law enforcement using the vehicle of fiction. My current work-in-progress has to do with internet crimes against children and the pressure investigating such crimes puts on the investigator and his family.
Q: What was the hardest part of writing this book?
A: Mysteries are heavily plot-driven and plotting is always the hardest part for me. I love developing characters and finding just the right words to describe a person or a situation.  The challenge is to create plausible suspects, drop a few hints, and keep the reader guessing until the end. Cheating isn't allowed. I have to treat my readers fairly and not spring something new on them right at the end. This requires a lot of planning.  After writing myself into a corner more than once, I now create outlines before I start writing. These are sketchy outlines that are doomed to change, but it helps me to know from the get-go, who the bad guy (or gal) is, what they did and why.
Q: What advice do you have for law enforcement and corrections personnel on dealing with negative media and scrutiny?
Stop reading (and believing) the news, the blogs and especially the comments. This is easier said than done. Try to remain positive by doing whatever you can to build something positive and good into your workplace. Some folks I know watch funny movies together or team up to do something charitable. Avoid toxic workmates. They will bring you down with their constant carping and complaining.
Q: What advice can you give to aspiring writers who have a story to tell?
No way around it, you have to sit down and write. Get your story on paper. Every writer's first draft is garbage. Writing is revision. Finish it, put it away, look at it again, make changes and then show it to someone you trust. My second piece of advice is to read. Every good writer reads incessantly. I learned how to write by reading books.  I learned a lot from writers I admire, but I learned even more from terrible writers who inspired me to think I could do better.
Q: What is your favorite motivational phrase or saying?
I love Anne LaMott's advice to writers in her book Bird by Bird. (I also love Stephen King's Book On Writing). I can't quote LaMott exactly but it goes something like this: A writer has two voices in her head: one is saying she a major talent about to write the great American novel. The other voice is saying she is a pretender, an imposter with nothing to say and no talent. The writer's job, says LaMott, is to turn off both voices, sit down and write. 
Q: What project(s) are you currently working on?
As mentioned above a third mystery about internet crimes against children and quite possibly a second edition, meaning a full over haul, of I LOVE A COP. Maybe this time I can include more about correctional officers.
To learn more about Ellen Kirschman's career in law enforcement and her other work, check out her website or follow her on LinkedIn and Facebook.