Convicted murderer, another violent inmate escape van
It appeared neither of the COs in charge of transporting the prisoners checked on the men during two stops
---
Associated Press
SANTA FE, N.M. — A convicted murderer and another violent felon fled from a New Mexico prisoner transport van and were likely on the run for several hours before authorities realized they went missing, a corrections official said Thursday.
Joseph Cruz and Lionel Clah were last accounted for around 8:30 p.m. Wednesday while they and three other inmates were being transported between correctional facilities in Roswell and Las Cruces — two cities in southern New Mexico that are more than 180 miles apart.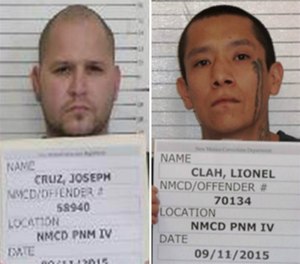 It appeared neither of the corrections officers in charge of transporting the prisoners checked on the men during the two stops, despite having stopped at a gas station in Artesia, New Mexico Corrections Secretary Gregg Marcantel said. Corrections officers didn't know the men went missing until around 1 a.m. Thursday, he said, and they remained missing Thursday afternoon.
"Somehow we failed," Marcantel said. "We just don't have the detail at this point."
Law enforcement officials confronted a daunting task of searching for the two prisoners across a wide swath of the state. Corrections officials said the men should be considered armed and dangerous, but didn't alert the public the men were on the loose until several hours after authorities realized they had escaped.
Cruz, 32, has been serving a life sentence for first-degree murder since 2007 for killing a man over drugs in Raton in northern New Mexico. Clah, 29, was convicted in 2009 of armed robbery and two counts of assault with intent to commit a violent felony on a peace officer.
Both men have multiple tattoos, including some that are visible on their neck and arms. Cruz has the word "TRIBAL" tattooed on his neck, while "SHIPROCK NATIVE" is tattooed on Clah's neck and a feather has been inked on his left cheek.
State Police spokeswoman Sgt. Elizabeth Armijo said the search involves sniffer dogs, aircraft and foot patrols. The U.S. Border Patrol, New Mexico State Police and other agencies were involved.
"We don't have any indication that they have gone out of that area" between Roswell and Las Cruces, she said. "We do have a very strong focus in that area."
Armijo indicated investigators also were seeking out surveillance footage from the stop at the public gas station in Artesia.
Marcantel said police were focusing their search on southeastern New Mexico, but acknowledged that authorities couldn't say for certain exactly where the men may have fled to. Investigators haven't ruled out the possibility that the escape was planned.
"This must be investigated as something more organized," he said. "We can't just assume an opportunity (presented itself)."
Both Cruz and Clah were shackled with leg irons and belly chains and wearing white prison jumpsuits before they fled, corrections spokeswoman Ashley Espinoza said. The area where they were last seen is largely rural, with open spaces and small towns situated along U.S. Highway 285.
Their escape comes after Corrections Department officials warned of dangerously low staffing levels at prison facilities across the state. In November, another inmate fled a minimum-security facility south of Albuquerque in the middle of the night after a series of missteps by authorities.
"People are rightly concerned about what's happening with the escapees," Artesia Police Commander Lindell Smith said Thursday morning.
He told The Associated Press that his department placed extra officers on patrol to help with the search, and that local police's search is centered in an area just beyond the Artesia city limits.
Copyright 2016 The Associated Press