Critics slam Sheriff Joe's video visitation system
Claims it doesn't work and alienates poor families
---
By C1 Staff
MARICOPA COUNTY, Ariz. — A new report from incarceration policy researchers is slamming the video visitation system installed in Sheriff Joe Arpaio's jail.
The video visitation system is implemented by Securus Technologies, according to the Phoenix News Times.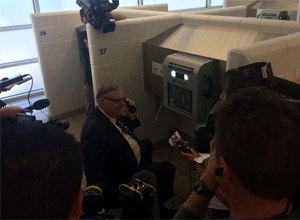 "There have been a lot of complains about Securus," Prison Policy Initiative researcher Bernadette Rabuy said. "We tried ourselves to do a Securus video visit, and it wouldn't work for some reason."
The video visitation will replace in-person visits, which has been criticized as being "poorly designed, does not work well, and makes a trying time for families even more challenging."
The system cuts down on contraband and allows authorities to monitor inmate conversations, as well as allows family members who cannot travel to the facility to visit with inmates. It also generates revenue for the facility, with each phone call costing $13 for 20 minutes.
The report notes that the system alienates poor families who can't afford the Internet speeds, computer, and webcam necessary to make a call, not to mention afford the cost of the call itself.
It also calls for regulations to prevent companies like Securus from imposing big fees, and to keep them from dictating the in-person visitation policies of counties and states.