Former deputy charged with smuggling drugs into jail
---
By Richard Winton
Los Angeles Times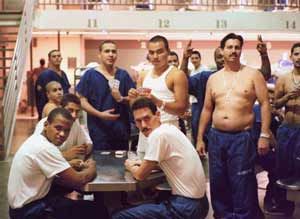 Prisoners play cards and pose in their dorm facilities at the medium security area of the Los Angeles North County Correctional Facility where Felix is accused of trying to smuggle drugs. (AP photo)
LOS ANGELES — A former Los Angeles County sheriff's deputy was charged Wednesday with attempting to smuggle narcotics into a county jail facility in Castaic where he worked as a jailer, authorities said.
Peter Paul Felix, 25, pleaded not guilty to conspiracy to bring drugs into the North County Correctional Facility and six other drug-related crimes after surrendering to authorities in a downtown L.A. courtroom. Monique Ciara Garcia, 21, an alleged accomplice, also pleaded not guilty to similar charges, authorities said.
If convicted, each faces up to 12 years in state prison, according to Deputy Dist. Atty. Sean Hassett.
Felix, a two-year department veteran, resigned in October after investigators caught him allegedly receiving cash and drugs from Garcia in a Baldwin Park parking lot.
Before joining the Sheriff's Department, Felix had had at least one previous run-in with the law. He was convicted of misdemeanor petty theft after Glendora police arrested him in May 2002. He was sentenced to one day in jail and three years' probation, according to prosecutors.
Felix was among the hundreds of deputies hired by the Sheriff's Department at a time when the agency was seeking to bolster its ranks. A department watchdog warned in a report earlier this year that the department had eased its hiring practices in 2006, giving jobs to recruits who in the past would have been rejected. Some of those hired had criminal records, drug and alcohol problems and financial woes, according to the report.
Sheriff's spokesman Steve Whitmore said the hiring of unqualified deputies was the result of poor scrutiny of candidates' background information rather than any "loosening of standards." He said the department has reinstituted a review panel to vet candidates with potential problems. "These kind of hires won't happen in the future," he said. "Petty theft isn't an automatic disqualifier. However, it certainly raises some issues and red flags."
Felix and Garcia could not be reached for comment.
Law enforcement sources described Garcia as a runner for narcotics dealers.
Felix, of West Covina, was released on $135,000 bail. Garcia, of Whittier, was held in lieu of $50,000 bail.
Copyright 2009 Los Angeles Times