Ill. woman's mug shot displays breast cancer ribbon hairdo
Nicole Matthews, 38, will be serving a home confinement sentence for driving with a suspended license
---
By C1 Staff
CHAMPAIGN COUNTY, Ill. — An Illinois woman's booking photo shows her sporting a bright pink Mohawk and pink breast cancer awareness ribbon sprayed onto the right side of her head in pink dye.
Nicole Matthews, 38, will be serving a home confinement sentence for driving with a suspended license, according to the NY Daily News.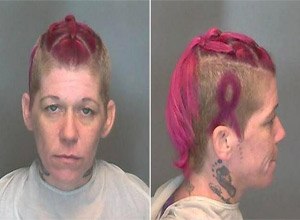 Lt. Karee Voges, of the Champaign County Sheriff's Department, said Matthews was at the facility all of five minutes to have her booking photo taken. She said the hairstyle would not have been allowed inside the facility.