Prisons cracking down on wrong types of cells
---
Related article: 'Sophisticated' K-9 units helps Mass. cops
By Kristen Wyatt
The Associated Press
JESSUP, Md. — Prison officials say there are too many of the wrong kind of cells in prisons, and they're using dogs and tougher legislation to crack down on the contraband phones.
Maryland and Virginia have become the first states to train dogs to sniff out cell phones hidden in socks, under mattresses and in books. Maryland's three dogs can even find cell phone SIM cards - which store phone numbers and text messages - or other cell phone components used by prisoners to evade detection.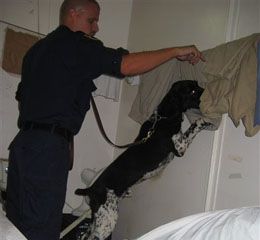 Maryland and Virginia are the first states to train dogs specifically to sniff out cell phones. (AP Photo)
"I can't even tell you how many cell phones are in here or what damage they're doing," said Maryland Maj. Peter Anderson, a Canine Unit commander who demonstrated cell phone searches for reporters Wednesday at a former state prison south of Baltimore.
Contraband cell phones are sometimes used to call friends and families. But officials say they're also used to orchestrate crimes, coordinate escapes and order retaliation against other prisoners.
In Nevada, a prison dental assistant was fired in 2005 for helping an inmate get a cell phone to plan an escape. In Florida, authorities broke up a 2004 escape attempt from a state facility that involved a cell phone, and prisoners there have been found using phones to threaten members of the public. Texas has convicted more than a dozen officers in recent years for accepting bribes in exchange for cell phones or phone components.
National statistics aren't available on how many cell phones are seized in prisons each year, but legislatures across the country are paying attention.
Florida and Maryland passed laws toughening penalties for providing cell phones for inmates. Texas this year became the last state in the nation to allow prisoners to use regular telephones, in part because that state had such a large problem with contraband cells.
"Inmates are using cell phones to conduct criminal business," said Harlen Lambert, owner of All-States K9 Detection, a training facility in Fullerton, Calif. Lambert trained what are thought to be the nation's first phone-sniffing dogs for Virginia last year.
He doesn't want to explain exactly how the dogs are trained, but says they can differentiate between cell phones and other electronics.
In Maryland, the dogs were trained using an old-fashioned system of rewarding them for finding cell phones or components. Anderson said he got the idea from Virginia's training and was surprised that it worked.
"In my own narrow mind I didn't think they'd be able to distinguish among different electronics," Anderson said. But in demonstrations for reporters, a phone-sniffing English springer spaniel was able to find phones hidden under a mattress and stuck in a compartment carved into a book.
States are also stiffening penalties for officers who help prisoners get cell phones. Maryland's legislature made it a misdemeanor earlier this year, and Florida lawmakers made it a felony to possess cell phones improperly within a prison, a law that could apply to officers as well as inmates.
Texas officials say they have the nation's worst contraband cell phone problem. That state now allows sentences of up to 40 years for cell phone contraband in prison, and John Moriarty, inspector general of the prison system there, says an officer was recently sentenced to five years for furnishing a cell phone.
In that case, Moriarty says, an undercover officer was offered $200 for a cell phone - and only $50 for heroin.
"Five years ago, if you'd told me a cell phone would get more than heroin, I'd say you were crazy," said Moriarty, who has some 400 pending cell phone contraband cases. "It's a huge problem."
In Florida, where cell phones have been tossed over fences into prison laundry facilities, corrections spokeswoman Jo Ellyn Rackleff says contraband cell phones can be deadlier than weapons.
"We are constantly after the cell phones," she said. "It really undermines the security for everyone there and for the public outside."