Shelter dog turned K-9 featured in new PBS series
The Worcester County sheriff's department in central Massachusetts turned to the shelter when there wasn't enough money in the budget to replace its retiring tracking dogs
---
By Sue Manning
Associated Press
LOS ANGELES — A mutt from a Massachusetts animal shelter who got a new life as a K-9 drug-detection dog stars in an upcoming episode of a new PBS series called "Shelter Me: Partners for Life."
The Worcester County sheriff's department in central Massachusetts turned to the shelter when there wasn't enough money in the budget to replace its retiring tracking dogs. The department covers 60 towns, a prison and a million people. With drug overdose deaths in Massachusetts rising, including 1,200 last year, the department needed a good drug detection dog.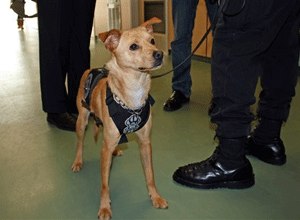 Sheriff Lewis G. Evangelidis sent Lt. Tom Chabot to find a shelter dog that was young, friendly, enthusiastic, smart and free.
Chabot came back with Nikita. Their story is showcased in an episode of "Shelter Me: Partners for Life" airing on PBS beginning Oct. 1 (local listings at ShelterMe.TV). A second profile on the show will look at singer Emmylou Harris and her animal rescue, Bonaparte's Retreat.
Nikita was picked up as a stray in San Juan, Puerto Rico, when he was 3 months old and 25 pounds, and brought to the Sterling Animal Shelter in Sterling, Massachusetts, Chabot said.
"He was reaching out to me, stuck to me, screaming for us to take him," Chabot recalled.
In no time, Nikita was a local rock star with a following that counted students, inmates and residents. Drug seizures at the prison even dropped.
Last year, another Sterling dog named Jaxx, also from San Juan, joined Nik on the Worcester squad.
The department saved tens of thousands of dollars by picking dogs from shelters, training them for eight weeks instead of six months or two years, and getting that training from the nearby Plymouth County Sheriff's Department.
Chabot doesn't have to buy anything but food for Nik, said filmmaker Steven Latham, who created the series. A veterinarian donates the dog's medical care. A group of residents got him a bulletproof vest and an alarm that notifies Chabot and opens patrol car doors if it gets too hot while he's sitting inside.
This is Latham's fifth episode of "Shelter Me," which he created to eliminate negative perceptions about public animal shelters and to show people that shelter pets can sometimes make the best pets.
"I love the direction this sheriff's department and other law enforcement agencies are going," Latham said.
Nik and Jaxx work for food. They don't eat breakfast or dinner like other dogs. They get a bite when their collars are put on or removed, or when they get or complete a command, Chabot said. Their food is measured out in the morning in a pouch the handlers carry on their belts. If they aren't officially on the job, they will practice or do routine tasks to get in enough exercise and time to get all their food. When a dog finds narcotics or prescription drugs, he sits and put his nose on the item.
Another member of the K-9 squad, a bloodhound, does missing children hunts and other friendly finds.
The best aspect of the shelter dogs' work is that they've become community icebreakers, Chabot said. If they're not wearing the collars that put them in working mode, people are welcome to pet them and talk to them.
Chabot said he sees the difference the dogs make when he takes questions during classroom visits. With Nik and Jaxx, the students will ask if they can touch them or pet them or where they came from.
"I had a German shepherd before and the kids wanted to know things like how many people he had bitten and how many bad guys we had caught," he said.