Texas COs take part in Special Response Team training
Six detention officers have completed a Special Operations Response Training Team program that was two years in the making
---
By C1 Staff
ELLIS COUNTY, Texas — Six detention officers have completed a Special Operations Response Training Team program that was two years in the making.
The Daily Light reports that the SORT program is a version of a SWAT team; it took two years for several members from the Ellis County Sheriff's Office to complete SORT instructor training. Then policies and procedures were created to lay the groundwork for such a team at the Wayne McCollum Detention Center.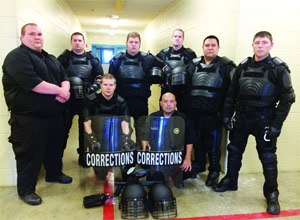 "Each scenario we give them is designed to be harder than the one before," training Deputy Jeff Prater said. "The further we went with the training, the more we saw the team come together."
The training, which included physical, classroom, tactical and scenario training, all took place on-site at the detention center and out of view from the inmates. Members from ECSO's different divisions volunteered their time to serve as actors during different scenarios.
The graduates included Cpl. David Gonzalez, Detention Officer Bradley Morris, Detention Officer Kenneth Koepsell, Detention Officer Kevin Sipla, Detention Officer Joshua Howard and Detention Officer Joshua Huff.
"They really pushed us to our limits," Gonzalez said, describing the weeklong course as "demanding in all aspects."
Sheriff Johnny Brown said they recognized a need for the specialized training, which had never before been done at their facility.
"I'm very proud of how our detention officers have taken on this challenge and am very pleased with the results. I've said it before and I will say it again: The Ellis County Sheriff's Office has the best detention officers in the state of Texas, bar none."
The new SORT members will continue to train on a monthly basis. They will also return to their respective shifts and recruit others.
"Our goal is to have from seven to eight people on every shift to serve as a response team here in the jail," jail Sgt. Angelo Brock said.