Top 10 corrections stories of 2011: A look back
Remember these stories? We got the latest updates on the top stories of the year
---
By Carol McKinley
Stories come and go throughout the year on our website, and there are so many, sometimes we forget them. So Corrections1 looked back at the most popular stories of the year and called the people and facilities involved to get an update. Here's a look back at the top stories of 2011.
1. The 23-year-old California woman who police say secretly bore a child and left it to die entered a plea of "not guilty" in Shasta County Superior Court last month. Jessica Bradford is charged with murder, child abuse and a related enhancement in her baby's death. Since her preliminary hearing, friends have come forward with stories of Bradford, who was a mentor to girls at Julian Youth Academy, a school for troubled kids in Whitmore, California.
They say did not not know Bradford was pregnant because she often wore baggy clothes, and that she did not tell her boyfriend about the baby. Court documents reveal the infant was born under a deck on September 19th and died four days later. The mummified body was not found until early November when a staff member discovered it in a laundry basket in a utility closet.
2. Remember this video? An Albany County, New York sheriff's deputy is still on job after he made a humorous Keystone-Cops video of CO's chasing inmates through the jail. Internal Affairs Commander Michael Monteleone says prison employee Charles Higgins, who released the video as a joke, was investigated and the "situation has been dealt with."
Higgins' slapstick masterpiece, which was sped up and put to music, got thousands of hits after it circulated through the media. It may have been funny to people on the outside; but, Monteleone says it was a serious matter to the Albany County Sheriff's Department, "Professionalism is one of our utmost concerns. There have been no policy changes. It was an unusual incident that wasn't systemic."
3. A public information officer tells Corrections1 "the case is still pending" on an alleged attack on a suspect caught on surveillance tape in Williamsburg, South Carolina this past June. Benamin Ferguson, the sheriff's deputy accused of beating a suspect he'd brought in for booking, was fired and also jailed after the surveilance tape surfaced.
State Law Enforcement Division (SLED) agents released the tape this past June which showed deputy Ferguson walk James Timmons to the booking desk and take off his handcuffs. Investigators say Timmons then started directing racial slurs toward Ferguson. That's when the tape shows Ferguson grabbing his neck and slamming him into a wall. If convicted, Ferguson could get up to a year in prison and a $1,000 fine.
4. A New York Corrections Officer who was severely beaten by a 17-year-old inmate at the Orleans Correctional Facility in Albion New York is still recovering from a stage three concussion and has not been able to return to work. Al Mothershed of the Western Region of the New York State CO's and Police Benevelent Association says the the inmate who Mothershed says "nearly beat him to death," has been through the internal process and has been placed in a special housing unit for the next four years.
A trial on the jailhouse assault is pending. Mothershed says the CO was asking inmate Paul Cookhorne about a rules infraction when Cookhorne punched him in the face and "pile drove" him into the floor, choking him. Cookhorne was moved to another correctional facility and criminal charges may be pending. Mothershed is pushing for more staff so that situations like this are less likely to happen. He does not want to divulge the name of the CO for fear inmates' friends on the outside may retaliate against him.
5. CO's are seeing more and more of the heroin-busting drug suboxone inside facilities
after one of the inmates there overdosed on it this summer. Joseph Segura died after licking suboxone which had been ground into a water color painting supposedly drawn by his kids and smuggled into his cell.
Joseph Segura's girlfriend, 47-year-old Shari Stone was indicted on charges of involuntary manslaughter in his death. "We had not seen suboxone before this,"says Public Information Officer Shannon McReynolds. "But now, because it's a legal drug, we see it smuggled into the jail on a weekly basis. That and cellphones." There are reports that Stone was the former wife of a corrections employee who left her husband and kids and later hooked up with the inmate.
6. A Nevada teenager who said the devil told him to suffocate his six-year-old cousin and stab his cellmate to death with a pencil
has been found fit for trial. Nineteen-year-old Carl Marcus Guilford has been released from a psychiatric facility and is being held in Clark County jail. Public defender, Norm Reed, anticipates that despite the mental health evaluation declaring his competency, Guilford will plead not guilty by reason of insanity at a January preliminary hearing. Says Reed, "There is nothing to hide regarding Carl's mental state. He still puts cotton in his ears to make the voices stop." Reed indicated that if Guilford's condition worsens, he may have to postpone his January court date.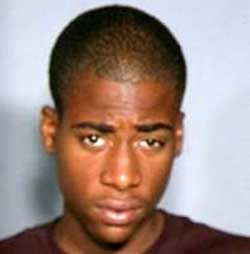 7. Self-gratifying prophet Warren Jeffs may still be masturbating in his jail cell, but if he is, officers at his new cell in the Poweledge Unit in Palestine, Texas aren't talking. Corrections1 has confirmed earlier reports of self-gratification are true. Private Investigator Sam Brower, who has just written a book about Jeffs and his Fundamentalist Church of Latter Day Saints, says he was surprised by the frequency of it.
"I checked into it. Sexual deviants like him can do this. As soon as they finish up one task, they're on to another. Before he left the tiny county jail in Eldorado Texas, a former guard says Jeffs, a religious leader who preached against masturbation, was pleasuring himself all day long. And in full view of the guards. "We could see him," Bradley said. Jeffs, who has at least 87 wives received a stiff penalty, life in prison plus twenty years. Jeffs' contact with outsiders is limited to ten visits a month after being convicted of sexually assaulting two girls, 12 and 15 years old, he claims are his celestial wives.
8. An Ohio mother who was convicted of aggravated murder by cooking her infant daughter in a microwave oven
may get a new trial. China Arnold was sentenced to life in prison in May after undergoing three trials. Her attorney, Jon Paul Rion, says Arnold, who is housed at the Dayton Correctional Facility, did not kill 28-day-old Paris Talley. The prosecution contends Arnold killed the child after an argument with her boyfriend over whether the baby belonged to him.
Rion says police threatened the potential witnesses with jail time, and the defense never got to use their testimony. Rion says Arnold is not the horrible parent the media has made her out to be, "All you have to do is look at her three other children, who are polite, well-mannered young men and you can see she is not a bad mother."
Rion is appealing the jury's decision based on the fact that he says there were young witnesses who can tell a different story, but were too afraid to testify.
9. The Maricopa County sheriff's office has changed how it conducts searches inside its jail after a seven year saga of the search of an inmate by a female guard
was declared to be "unreasonable."
Prisoner Charles Byrd said he was humiliated when the guard groped him during a 2004 search after he was ordered to strip to his pink boxers. He said she ran her hands over his body for 60 seconds. The cadet said it took 10-20 seconds. As a result, male prisoners are now searched by male sheriff's deputies and only female deputies search by female prisoners. The case went all the way to the Supreme Court, who refused to take the case on in June.
10. Inmates at Berkeley County jail in Moncks Corner, South Carolina, still aren't allowed to have pornographic magazines
in their library. Lawyers for the jail say there's too much of a disruption when prisoners put porn on their walls. There hasn't been a ruling yet on a lawsuit by the ACLU against the jail over its book policy saying that the only literature at the jail was "the good book." Not so, says jail counsel Sandy Senn, "there never has been a Christian Bibles only policy and our religious diets and vestments policy in place before this suit is indicative of such."
Senn goes on to say that most news-stand magazines and articles are now allowed in the jail library, but only if they're glued together. She says the jail does not allow magazines with staples in them because inmates misuse them. "Misuse of staples in our older facility causes problems with plumbing fixtures, locks, the intercoms and lighting systems as well as by inmates misusing them to create tattoos." They also, she reports, are using staples to charge their contraband cellphones using the old lighting systems.
What was your favorite story of 2011? Tell us in the comments below.