Service dog training program ends as N.J. women's prison faces closing
Over 200 women at Edna Mahan took part in training dogs for nearly 22 years with Puppies Behind Bars
---
By Vashti Harris
nj.com
CLINTON, N.J. — Puppies Behind Bars, a program where inmates at the Edna Mahan Correctional Facility for Women trained service dogs, ended on Monday after nearly 22 years of operation at the Hunterdon County-based women's prison.
"There are other programs where people do productive things, but when you're working with a living being, it calls on more of your facilities as a person," Puppies Behind Bars instructor Jan Brady, who has run the program at Edna Mahan since its inception in 2001, told NJ Advance Media. "You're not just using your mind, but you have to learn a lot of self-control because you have to be patient, dedicated."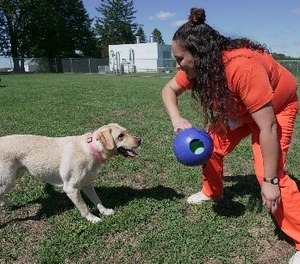 The New York-based nonprofit works with incarcerated individuals who help train puppies that will eventually become service dogs for wounded veterans and first responders, as well as facility dogs for police departments, and explosive detention dogs for law enforcement.
Brady, saying it is disappointing to see the program end at Edna Mahan, said over 200 women took part in Puppies Behind Bars over the years. Edna Mahan, slated for closure, was the only New Jersey prison where it was offered.
"For some, I think it's gives them something to hang on to while they're incarcerated," Brady said. "It gives them something to work for, and makes them feel like they're useful. But for a lot of them, it gives them life skills that they didn't have and gives them a sense of purpose."
In 2021, Gov. Phil Murphy ordered the closing of Edna Mahan after NJ Advance Media reported how officers brutally attacked a handful of women in January 2021. The U.S. Department of Justice also found officers sexually abused prisoners for years and mandated a federal monitor oversee the prison.
In April last year, the prison made national headlines after NJ Advance Media reported that a transgender prisoner impregnated two fellow inmates at the facility. The DOC houses individuals based on their gender identity after reaching a settlement with the American Civil Liberties Union in June 2022. Per the settlement agreement, the policy must remain in place for at least one year.
Gov. Phil Murphy's proposed budget includes $90 million to complete the closure of Edna Mahan. Some inmates have already been moved to the William H. Fauver Youth Correctional Facility, serving as a satellite location, New Jersey Department of Corrections Public Information Officer Amy Quinn said.
Among the proposals for Edna Mahan is to rehabilitate the current prison or build a modern facility on the same site. No timeline has been given on when work on a new facility could begin.
"With infrastructure challenges at the campus, NJDOC made the decision to relocate some incarcerated persons to a housing unit on the grounds of the William H. Fauver (Youth) Correctional Facility," New Jersey Department of Corrections Public Information Officer Amy Quinn said. "NJDOC has appreciated the partnership and support of Puppies Behind Bars over the past 22 years and values the contribution this program has made to our incarcerated women.
"We look forward to continuing this remarkable program in the future. At this time, we continue to explore other available programs that can be better accommodated."
After women were moved to a different area at Edna Mahan last fall, Puppies Behind Bars tried to continue operating in the prison, Brady said. She said they hoped as the DOC began relocating women, it would keep those who are part of the program housed together with one to two dogs.
"It turns out that they couldn't promise just that situation," Brady said. "That alone pretty much is a deal breaker because we cannot have our dogs living in a room with women that are not in our program."
©2023 Advance Local Media LLC.
Visit nj.com.
Distributed by Tribune Content Agency, LLC.
McClatchy-Tribune News Service