Ala. jail nurses challenge claims of abuse and neglect of mentally ill man who died in custody
Attorney for nurses said allegations "have spawned numerous social media and other very adversarial threats"
---
By Carol Robinson
al.com
WALKER COUNTY, Ala. — Allegations that Walker County Jail nurses failed to obtain urgent emergency medical treatment for inmate Anthony "Tony" Mitchell before his death are false, according to newly filed court documents.
"These allegations are false and not supported by the evidence," wrote Labella McCallum, the attorney for nurse practitioner Aleisha Herron and nurse Brad Allred.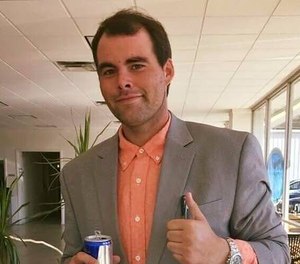 "Further, these allegations have spawned numerous social media and other very adversarial threats against the medical personnel defendants."
Mitchell, 33, died Jan. 26 at Walker Baptist Medical Center, just over two weeks after he was arrested on charges that he fired on Walker County deputies as they responded to a welfare check requested by his family.
A cause of death has not yet been finalized.
Lawyers for Mitchell's mother filed the lawsuit, claiming that jail deputies tased Mitchell and locked him in a freezer.
The federal lawsuit alleges abuse and medical neglect of Mitchell at the hands of Sheriff Nick Smith and staff at the county jail, including corrections officers, nurses and an investigator.
Wednesday's response on behalf of the jail nurses is the latest in ongoing filings in the case.
Attorneys for the sheriff's office last week responded to the lawsuit in filings saying Mitchell was never placed in a freezer, and asked that the allegation be removed from the lawsuit.
"He was not held in a freezer,'' the document stated. "In fact, the only times that he left the booking area was to attend his 72-hour hearing and to be transported to the hospital."
"This case embodies the adage, 'A lie is halfway around the world before the truth can put on its boots,''' lawyers wrote.
Mitchell family attorneys responded on Monday by saying the claim was mischaracterized.
They said the claim about the freezer was not definite, but rather a likely possible explanation for Mitchell's death and that a physician they interviewed for the case told them as much.
[PREVIOUS: Lawsuit: Mentally ill man froze to death in Ala. jail]
"If defendants had another means of bringing an inmates' body temp. to 72 degrees or lower, plaintiff will uncover that during the discovery phase of this case," the family's lawyers argued.
Attorneys for the nurses are asking the court to strike from the lawsuit allegations against the nurses that the attorney states are false and intended to create negative publicity.
The filing for the nurses states the suit's following allegations are false:
Herron, the nurse practitioner, enters Mitchell's jail cell and spends a minute or two inside with Mitchell but appears to provide no medical treatment and does not summon an ambulance even though Mitchell's severe medical distress is obvious.
Nurse Allred stands at the door of the cell looking in at Mitchell but provides no medical treatment, though Mitchell's need for emergency medical intervention is obvious.
None of the nurses called an ambulance or otherwise takes steps to provide Mitchell with emergency medical intervention.
Herron and Allred are liable for being deliberately indifferent to Mitchell's obvious serious medical need for immediate emergency medical assistance by failing to call an ambulance and failing to intervene in the nearly five hours "when (Mitchell) lay dying of hypothermia on the floor of the isolation cell in the booking area.
Numerous corrections officers and medical staff wandered over to his open cell door to spectate and be entertained by his condition.
"None of the partial video clips relied on by (Mitchell's mother) in her complaint support any of these false allegations,'' McCallum wrote.
"The medical records clearly document that the medical care personnel asked for a transport on three occasions before Tony Mitchell was transferred and were told an ambulance was on its way,'' the document states.
"These requests started after Herron was first summoned to the jail on Jan. 26, 2023, by a jail officer."
The response states that Herron assessed Mitchell and provided medical treatment by asking for a transfer to the emergency department, which is done through the jail for security reasons.
Allred also later requested a jail officer to transfer Mitchell to the hospital per Herron's earlier orders.
The nurses' response denies there is or was a policy of deliberate indifference by medical staff at the Walker County Jail and said they are not aware "of any evidence that Mitchell was placed in a walk-in freezer or frigid environment."
©2023 Advance Local Media LLC.
Visit al.com.
Distributed by Tribune Content Agency, LLC.
McClatchy-Tribune News Service