From commuted sentence to cop slaying: The Maurice Clemmons story
---
There's little doubt that Maurice Clemmons murdered four Lakewood, Washington police officers on Sunday, Nov. 29th, 2009. He had become a suspect almost immediately after the shooting took place, and when a Seattle officer shot him to death a couple of days later, he was found in possession of one of the officer's weapons.
So the real question now is: How did all this come to pass?
The early years
Born in 1972 and raised in Arkansas, Maurice Clemmons was sentenced to more than 90 years in prison in 1989 for eight felonies, including the robbery of an Arkansas State Trooper's home from which he stole almost $7,000 worth of items, including a gun.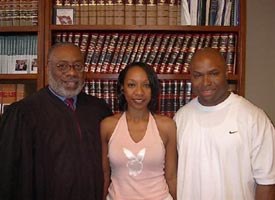 At the request of the judge and under the authority of then Arkansas governor Mike Huckabee, in the late 1990's Clemmons' sentence was commuted to allow him to be considered for parole.
On July 13th, 2000, Clemmons walked past the gates of the Arkansas State Prison system and back into society after serving just 11 years.
Less than a year later, Clemmons violated parole by committing aggravated robbery and went back to prison.
Due to complications in the case, he was back on the streets by 2004.
Under the interstate compact agreement, he was allowed to move to Washington State, which allows parolees who have good reason — typically a job at the new location — to leave the state and still be supervised.
Clemmons lived in Tacoma, Washington and, apparently, went along with the program. He got married and ran a landscaping business out of his house. It seemed he was becoming a success story.
Then, about five years downstream, something happened.
The Meltdown
Clemmons started showing signs of serious psychological problems.
One Sunday morning he ordered his family to strip naked in the living room while he discussed religion with them. Shortly after, he raped his 12-year old stepdaughter. In the process, he explained to her that he was, in fact, Jesus Christ.
The family thought this was good cause to call the police. The cops showed up and arrested him for the sexual assault and for assault on the officers who arrested him.
While in custody he showed clear signs of a psychological meltdown. Although the shrinks stated that he was clearly dangerous, they were unable — or unwilling — to keep him in custody on the basis of being a danger to himself or others.
Clemmons was allowed to make bail.
The Last Straw
Washington had contacted Arkansas and requested a no-bail parole hold be placed on Clemmons by Arkansas for not checking with parole authorities after his release on bail.
The Washington authorities said they wanted Arkansas to come get him, that they were done dealing with him. At first Arkansas went along and issued the no-bail warrant, but they later withdrew it. Pierce County Prosecutor Mark Lindquist voiced the opinion that Arkansas didn't want another troublemaker back in their state.
Fortunately, there is a "paper trail" on this — a string of emails back and forth between Marjorie Owens from the Washington DOC and Linda Strong from the Arkansas DOC.
Ms. Owens wrote, "Please provide your justification for canceling the (warrant)."
Ms. Owens was of the opinion that this cancellation was a violation of the interstate compact. She further wrote, "I'm concerned that you have no problem releasing your offender into our community, based on his behavior. I thought (the Interstate Compact) was all about community safety."
Ms. Strong responded twelve days later with two sentences: "The warrant was rescinded. When the pending charges in Washington are adjudicated we will reconsider the case."
With those 17 terse words, Clemmons made bail.
Six days later, four Lakewood police officers were murdered in an unprovoked ambush while sitting in a coffee shop.
Consequently, at that very same moment, three wives, nine children, and one husband lost their father, their mother, or their spouse.
Under Washington law all criminal defendants except death penalty cases must be allowed reasonable bail. The out-of-state hold would have kept Clemmons in custody despite that.
There are currently more than 1,000 Interstate Compact parolees in Washington State. The Governor of Washington has taken action to stop accepting Interstate Compact parolees from Arkansas.