Gov. Gavin Newsom halts state prison intake for 30 days
The California governor also vowed that he will not release violent criminals onto the streets, but instead will "be very thoughtful about this"
---
By Sam Stanton
The Sacramento Bee
SACRAMENTO, Calif. — Lawyers for California prison inmates asked a federal three-judge panel late Wednesday for an emergency order that could force state corrections officials to release thousands of inmates because of the coronavirus pandemic.
The motion seeks "emergency relief to prevent unnecessary irreparable injuries and death that are certain to occur if the COVID-19 virus is allowed to take its natural course in the still-overcrowded California prisons," according to documents filed with the panel, comprising U.S. District Judges Kimberly J. Mueller in Sacramento and Jon Tigar in Oakland and U.S. Circuit Judge Kim McLane Wardlaw of the 9th U.S. Circuit Court of Appeals.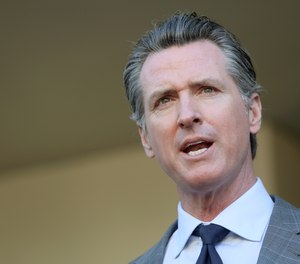 "The state must act now if it is to stop the global COVID-19 pandemic from running rampant in its prison system and striking down the most vulnerable people in its custody," the attorneys said in an emergency motion filed late Wednesday. "As Rick Raemisch, the former executive director of the Colorado Department of Corrections, recognized: 'These prisons are bacteria factories. I don't think people understand the gravity of what's going to happen if this runs in a prison, and I believe it's inevitable. You're going to see devastation that's unbelievable.'"
The filing comes as lawyers for the inmates say prisoners are living in conditions so overcrowded that it is simply a matter of time before a coronavirus outbreak sweeps through the facilities, despite state efforts to avoid such a catastrophe.
Already, one inmate and at least nine correctional workers have tested positive for the virus, according to the California Department of Corrections and Rehabilitation.
Governor Gavin Newsom provides a Facebook Live update on the state's response to COVID-19.

Posted by California Governor on Tuesday, March 24, 2020
'They're not dogs'
The wife of one Northern California inmate told The Sacramento Bee Thursday that prison officials were slow to even warn inmates about the disease, and that cleaning supplies and protective gear for inmates who are taken outside to clean up homeless camps are virtually non-existent.
"They're not given hand sanitizer, they're not given gloves, they're not given masks," said the woman, who asked not to be named because she feared her husband would face harassment. "My husband was told by one of the (correctional officers) that the hand sanitizer was for the employees and not for the inmates."
The woman said one dorm where inmates are housed was given a bottle of bleach this week and inmates were told to use it to sanitize the area, but that they were not given a mop or broom to use.
"They're not dogs," she said. "I just don't understand why they feel they're so superior. I mean, I understand they're inmates, but you don't have to treat them like crap."
How many inmates have been tested
The agency created a website that allows the public to see how many inmates in the system have been tested since March 7 — 159 as of Wednesday night, with more than 100 of them performed in the past week, 29 of which were in the past two days. Ninety-four of those tests are pending while 62 of them were negative and two results were inconclusive.
The tracker showed tests have been carried out in all but six of its 35 facilities. The most tests, 32, have been at California City Correctional Facility in Kern County, followed by California State Prison Los Angeles County, where 36 inmates have been tested and one positive result was confirmed Sunday night.
Two inmates at CSP Sacramento in Folsom and six at Mule Creek State Prison have been tested, the website indicates. Nine inmates were tested at San Quentin, where CDCR last week had believed a worker was infected. State officials later said that worker tested negative.
CDCR Secretary Ralph Diaz issued a video Wednesday to inmates in which he emphasized the need to keep institutions clean, and said investigators are tracking contacts between those who were infected any anyone else tehy may have been near.
"I'm well aware the the COVID virus didn't begin inside the institution," Diaz said. "It came from outside the institution and was brought in."
Gov. Gavin Newsom has ordered various steps — including a halt on accepting inmates from county jails for 30 days, a limit on transfers between prisons and video conferences to be used for parole and other hearings. The governor also has vowed that he will not release violent criminals onto the streets, but instead will "be very thoughtful about this."
But the state has yet to say which, if any, inmates will be released to relieve the burden on prisons that the inmates' attorney say are filled to roughly 134 percent of capacity.
Social distancing impossible
In a court filing late Wednesday, Michael Bien, a lead attorney for inmates, wrote that state officials have told him repeatedly this week that no decisions have been made about releasing inmates to relieve overcrowding. The latest call came Wednesday and included Diaz, he wrote.
"We were informed yet again that defendants still had not decided whether or not to take steps to reduce the prison overcrowding in response to the COVID-19 pandemic," Bien wrote.
One former inmate who spent 33 years in the system described in court filings the crowded conditions inmates live in at the California Medical Facility in Vacaville that make so-called social distancing impossible.
"These men and I shared the one toilet and one sink that was located in the corner of the dormitory," Michael Brodheim wrote. "There were four bunk beds in the dorms I lived in.
"Even if our beds had been 6 feet apart, which they were not, it would have been impossible to maintain a distance of 6 feet from each other while we were sleeping, as we all slept within a couple of 2-3 feet of each other on the upper or lower bunk. And whenever we left our beds to do any activities of normal life, including dressing, bathing, getting food, going to the bathroom, etc., we came within six feet of each other."
Shirah Tevah, an attorney for Disability Rights Advocates, said she measured spaces between bunks at the California Institution for Men in Chino and found "the smallest distance between beds that I measured was 25.5 inches, and the largest distance between beds that I measured was 48 inches."
3rd New Folsom worker tests positive
Federal judges in 2009 ordered the state to get its prison populations below 137.5 percent of capacity, but lawyers for inmates who need mental health care and medical treatment say the current crisis makes that figure obsolete, and are asking the judges to lower that threshold to protect inmates, guards, staffers and the population in general.
"Nearly 200,000 people live or work in CDCR prisons," the motion states. "Every day, 65,000 staff go home to their families and communities, and every month, several thousand incarcerated people are released after completing their sentences.
"The influx to California communities of thousands of people with significant exposure to the virus will spread the damage caused by CDCR overcrowding to all Californians."
The agency also said Wednesday afternoon that a third worker at CSP Sacramento, also called New Folsom, had tested positive for the virus that causes COVID-19 respiratory failure.
Positive tests among workers also have been found at the next-door Folsom State Prison; the California Health Care Facility in Stockton; and facilities in Chino and Corcoran.
Where inmate releases are happening
Other state prison systems, such as New Jersey and Iowa, as well as county jails nationwide, including Sacramento County, have begun releasing prisoners since the pandemic began, typically aiming at freeing inmates who are nearing their projected release dates, are elderly or infirm and are believed not to pose a threat to the public.
Last week, the Sacramento County Sheriff's Office released 120 inmates from its two jails to free up space to allow inmates who test positive to be placed into isolation. Only non-violent, non-serious offenders who were within 30 days of being released were eligible. The inmate with the longest pending sentence to win release had 11 days to go.
Then, on Wednesday afternoon, a Sacramento Superior Court judge ordered further releases, telling sheriff's officials to release certain inmates who have less than 60 days remaining to serve, an order the Sheriff's Office said would result in 421 more releases.
No inmates in the county jail system have tested positive for coronavirus.
'Prison walls cannot stop the spread'
Attorneys for the state prison inmates say that while Newsom has addressed the need for social distancing and other measures among the general public, such steps cannot be followed inside network of correctional facilities.
"The primary components of the Governor's actions have been to require social distancing to keep Californians at least six feet apart at all times and to prepare hospitals and health care workers for the coming surge in cases," they wrote. "Those steps have not been meaningfully implemented in the California Department of Corrections and Rehabilitation (CDCR) for one simple reason: the system is far too crowded.
"The prisons house tens of thousands of people in crowded dormitories where they live, sleep, and bathe within feet — sometimes inches — of each other. The prisons also house tens of thousands of the people most vulnerable to death or severe complications from COVID-19: the elderly and people with serious underlying medical conditions.
"These conditions pose an unacceptable risk of harm for people who live and work in CDCR as well as to the broader public: prison walls cannot stop the spread of pandemic disease."
———
©2020 The Sacramento Bee (Sacramento, Calif.)
McClatchy-Tribune News Service