Children face solitary confinement in cells at Ill. juvenile detention facility, lawsuit says
The lawsuit seeks a court order compelling the facility to improve conditions immediately, on the basis of deprivation of their rights under the 14th Amendment
---
By Claire Savage  
Associated Press/Report for America
CHICAGO — Children as young as 11 are confined alone to cells the size of parking spaces up to 23 hours a day at a juvenile detention center in Southern Illinois, according to a lawsuit filed by ACLU of Illinois.
Young people at the Franklin County Juvenile Detention Center in Benton must ask staff permission to flush the toilet, and they can go days or weeks without access to schoolwork. Black mold grows on the walls, according to the lawsuit filed Friday, and there are no mental health professionals employed at the facility.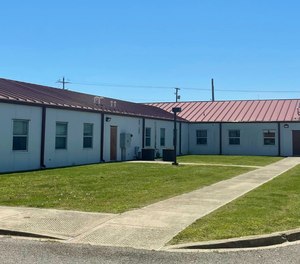 The lawsuit seeks a court order compelling the facility to improve conditions immediately, on the basis of deprivation of their rights under the 14th Amendment.
"These are not conditions that anybody, let alone any child, should be subjected to," said Kevin Fee, the lead lawyer on the case, describing the situation as "inhumane to the level of being unspeakable."
In general, the conditions of juvenile detention centers in the U.S. have been slowly improving in the last few decades thanks to research on the harms of solitary confinement, so this case is "especially frightening," said clinical and forensic psychologist Apryl Alexander, who works with detained youth.
"We're supposed to be using the juvenile legal system for rehabilitation and not punishment. These are youth who are capable of change — we recognize that developmentally and personally. And so we should be treating them as such," Alexander said.
Fee added that the Franklin detention center is used to hold kids before they have been sentenced or found guilty by a court.
The ACLU of Illinois spoke with more than a dozen youngsters who are either detained currently or have been detained at the facility within the past few weeks about their experiences there, Fee said.
"The idea that children would spend any portion of their childhood locked in solitary confinement is an egregious abuse," Fee said.
The practice has been banned for youth held by the Illinois Department of Juvenile Justice since 2015, and on Friday, Gov. J.B. Pritzker signed legislation making it illegal to use on "young detainees in detention centers for any purpose other than preventing immediate physical harm."
The law will go into effect on Jan. 1, 2024.
Alexander added that the majority of suicides that happen in detention occur when a person is in solitary confinement.
It is also important to consider that many youth in the juvenile legal system experienced trauma before they were detained, "so putting them in solitary confinement can also be retraumatizing," Alexander said.
Neither the Franklin County Juvenile Detention Center nor the Illinois Department of Juvenile Justice immediately responded to a request for comment by The Associated Press.