Dozens infected with COVID-19 at Calif. youth prisons
With no plans to release youth offenders early, prison officials said they have been taking steps to limit the spread of COVID-19
---
By Ryan Sabalow
The Sacramento Bee
STOCKTON, Calif. — Jane Faalataina's son is among the 47 teens and young adults who have tested positive for COVID-19 inside the walls of California's youth prisons. So far, his symptoms are minor, but he's locked in an isolation unit inside a Stockton facility, and his studies are suffering, she said.
The state adult prison system has seen thousands of inmates released early as the coronavirus has surged through those institutions. Faalataina said she wonders why California isn't willing to do the same for incarcerated youth offenders like her 20-year-old son.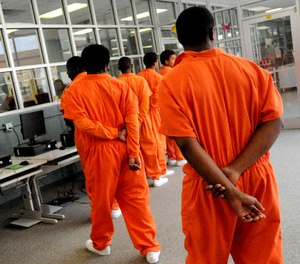 There are around 775 teens and young adults in the facilities. Forty-seven inmates infected with COVID-19 represent 6% of the population.
"Why not the youth?" Faalataina said this week in a phone interview from her home in San Francisco. "The youth are as important as adults. If you're releasing adults … with COVID, why not for all?"
Gov. Gavin Newsom has said he eventually wants to close the state's youth prisons, which house offenders convicted of the most serious and violent crimes. And state lawmakers are currently weighing a reform plan that would shift custody of youth offenders to the county probation offices that run local juvenile detention facilities.
But Newsom has not commented on releasing the state's youth offenders early. Officials with the Department of Juvenile Justice deferred questions about releasing inmates to Newsom's office, which didn't comment Wednesday.
With no plans to release youth offenders early, prison officials said they have been taking steps to limit the spread of COVID-19 among the young people inside the state's three youth lockups and one firefighting camp. They're aged between 14 and 25 years old.
Officials have suspended all visits, and on Tuesday, officials announced they would no longer be accepting new youth offenders into the Ventura Youth Correctional Facility in Southern California to limit the disease's spread. They said they were weighing whether to do the same at the two state youth lockups in Stockton, the N.A. Chaderjian and O.H. Close youth correctional facilities.
"Our highest priority is the health and wellness of our youth and staff, and this pause, in cooperation with county courts and probation, will help us accomplish that goal," Heather Bowlds, acting director of the Department of Juvenile Justice, said in a statement.
It's the second pause on intakes so far this year. On March 17, as the pandemic began to spread across the country, the state stopped accepting new youth offenders transferred from county detention centers. It resumed limited intakes again on May 26.
Meanwhile, staff members and inmates are tested for the new coronavirus regularly and the youths who test positive are placed in medical isolation in separate housing until testing shows they are free of the virus, or a 14-day medical isolation period expires, said Mike Sicilia, a spokesman for the agency.
So far, most have shown few or no symptoms and none of them have gotten so sick they required a stay at a hospital outside the prisons, Sicilia said.
Sicilia declined to say how many youths had tested positive at each of the youth facilities, citing patient privacy and the confidentiality granted to juvenile offenders.
Outbreaks in adult prison system
The outbreak inside the youth facilities comes as the adult prison system has been plagued with COVID-19 cases — prompting prison reform activists this week to chain themselves to the gate in front of Newsom's home in Fair Oaks as they demanded more releases.
More than 7,700 adult inmates have tested positive so far, with 859 new in the last 14 days, according to the state's COVID-19 prison dashboard. Forty-seven have died.
In response to the outbreak, the state began releasing some inmates with lower-level offenses and those who were nearing the end of their sentences as well as not taking inmates from county jails.
As of Wednesday, the total adult population at the state's 35 prisons, dozens of fire camps and smaller contract and reentry facilities was 107,507, down more than 15,000 since mid-March. Among the releases, 230 adult inmates were freed with active COVID-19 infections.
In response to the protest at his Fair Oaks home, Newsom said releasing more too soon would do more harm than good.
"The worst thing we could do is mass release, where people are just released out to the streets and sidewalks, and end up in benches and up in parks, on the side of the road." Newsom said Monday at a press conference. "That's not compassion. That would be ... making the problem, in fact, worse."
He didn't address the outbreak at youth prisons.
Critics of the state's youth prison system and advocates of reform say there's no reason not to release at least some of the youth offenders, especially since Newsom has made it a policy goal to disband the facilities anyway.
"For many reasons, the time is important to move quickly with the realignment plan," said Maureen Washburn, a policy analyst with the Center on Juvenile and Criminal Justice.
Newsom's plan to overhaul California juvenile justice
Newsom signed an executive order that would have shifted the state's Department of Juvenile Justice from the state's prison system to the Health and Human Services Agency.
Under the plan, the system would have been renamed the Department of Youth and Community Restoration. The plan was to have the agency assume responsibilities by this summer, but, with the pandemic in full swing, Newsom signed another order extending the deadline until next year.
Then in May, the governor changed tact, announcing a budget proposal that would transfer management of youth offenders to county probation departments.
County probation chiefs weren't opposed to the notion outright, saying their teams already handle youth offenders, but they were worried about the quick timeline and about not getting enough cash to expand juvenile detention centers and the programming needed to rehabilitate the state's most dangerous and troubled youth.
"While we might be professionally prepared for this, we are not financially and structurally prepared for it, and this proposal, as written, does not do enough to get us there," the Chief Probation Officers of California said in a May 14 statement.
Some critics of Newsom's plan fear cash-strapped counties can't duplicate the levels of services necessary to rehabilitate troubled teens convicted of crimes including rape and murder.
"Juvenile halls are not treatment centers," said Jay Aguas, a former Department of Juvenile Justice deputy director who's a lecturer at Sacramento State University. "They do detention; that's all they do."
Prison jobs on the line, critics say
Poised to see potentially dozens of positions cut if the youth prisons are closed, unions representing workers in the youth facilities also have spoken out against the proposal, arguing the prison system has already instituted reforms aimed at helping troubled kids and is the best place to rehabilitate them.
But some youth justice critics say the prison unions are a driving force behind the decision not to release youth offenders during the pandemic.
If there are fewer youth offenders to guard, then there won't be a need for as many corrections officers, said Alberto Gutierrez, a teacher who spent four years at N.A. Chaderjian Youth Correctional Facility in Stockton before quitting last summer.
"They're trying to save their jobs," Gutierrez said. "They're trying to fill up their halls as much as possible."
A spokeswoman for the California Correctional Peace Officers Association didn't return a message Wednesday.
An additional worry for prison reform organizations is that as the pandemic drags on, the youth offenders who are required to take classes and rehabilitation programs in order to qualify for an early release will be falling behind under lockdowns and quarantines.
Instead of a traditional set sentence for an adult offender, the Board of Juvenile Hearings has broad discretion to release youth offenders early if the young men and women have shown they can change their behavior, excel in their studies and have participated in the various rehabilitative programs offered through the prison system.
"It's not fulfilling the responsibilities as a component of the juvenile justice system," said Washburn, of the Center on Juvenile and Criminal Justice. "It slows down their progress and it means they have to spend more time behind bars, and that's just unacceptable.
"We would say that the quality of rehabilitation programming has always been subpar. The thought of it being diminished because of this virus is almost hard to fathom."
———
©2020 The Sacramento Bee (Sacramento, Calif.)
McClatchy-Tribune News Service