Fla. teens arrested after posing on Snapchat with guns at school
One image showed the gun's magazine and bullets
---
Associated Press
ORLANDO, Fla. — Two teenagers have been arrested after authorities say they were caught on Snapchat posing with guns at an Orlando high school.
Orange County Sheriff's Office spokeswoman Jane Watrel tells media outlets that the arrests came after a student saw images on the popular mobile app of a 15-year-old and a 17-year-old posing in a Cypress Creek High School bathroom with a handgun.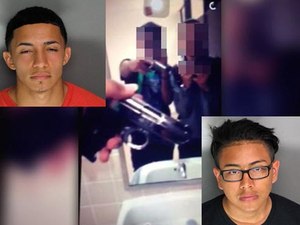 Watrel says one image showed the gun's magazine and bullets.
A concerned parent saw the Snapchat video and contacted authorities, who worked to identify the suspects.
They face charges of possession of a firearm on school property and possession of a firearm by a minor.
Cypress Creek Principal John McHale says the teenagers didn't pose a threat at any time to the school's students.
Copyright 2016 The Associated Press