Federal judge orders Calif. prisons to set aside COVID-19 quarantine space
Under the ruling, the state must come up with a plan to vacate at least 100 beds in each prison across California in the next month
---
By Matt Kristoffersen
The Sacramento Bee
SACRAMENTO, Calif. — Amid concerns over the spread of the coronavirus, a federal judge has now ordered the state to set aside space for isolation and quarantine in its prisons.
The order is the latest result of a long string of court motions filed by prison reform advocates in recent months that have criticized the California Department of Corrections and Rehabilitation for its handling of the coronavirus pandemic.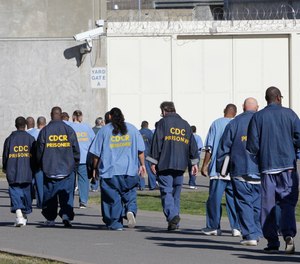 Under the ruling, signed by U.S. District Court for the Northern District of California Judge Jon Tigar on Wednesday, the state must come up with a plan to vacate at least 100 beds in each prison across California in the next month.
That space will be used to help tamp down the spread of a virus that's infected thousands across the prison system and killed 42 inmates this year, according to a state count.
Mike Bien, a lawyer involved with the lawsuit that asked for the order, said the judge's decision is "very significant" — and a big step toward preventing further COVID-19 flareups in state prisons.
"If you don't have space to isolate inmates," he said, "you have no chance of controlling the epidemic."
Motions filed in parallel prison reform lawsuits allege that inmates are living in cramped quarters with little room for social distancing. Some disabled inmates have told lawyers recently that they have been housed near prisoners with active cases of COVID-19 — and that they fear for their lives.
The judge's decision mandates that the state take into account the needs of disabled and mentally ill inmates when planning for isolation and quarantine space. Lawyers said earlier this week that more than half of all inmates who have died to COVID-19 had disabilities.
The Wednesday order will also allow the state to make at least 100 beds available through other means, like converted indoor spaces and tents.
In an emailed statement, CDCR spokeswoman Dana Simas said that the state will "work closely" with a federal overseer and public health experts to act on the order.
Simas also highlighted the department's efforts to depopulate state prisons. Since mid-March, CDCR has reduced the prison population by more than 12,000 inmates. It plans to reduce prisoner counts by a total of around 15,000 inmates by the end of July.
"This unprecedented reduction of the incarcerated population, combined with ongoing mandatory staff testing and both baseline and surveillance testing of the population, will significantly contribute to the department's ability to quickly address a potential COVID-19 outbreak and protect all those who live and work in our state prisons, as well as the community-at-large," she wrote.
The state prison system also has four weeks to gauge how much additional space is needed at each state prison to allow for adequate distancing, the judge said. This assessment must be guided by health considerations — "without regard to whether sufficient space can be reserved at the institution without a further reduction in population."
©2020 The Sacramento Bee (Sacramento, Calif.)
McClatchy-Tribune News Service