Officials: Approved solitary confinement bill in Va. missing crucial components
The final version didn't place any restrictions on how long a prisoner can remain in solitary
---
By Katie King
The Virginian-Pilot
RICHMOND, Va. — Natasha White remembers hearing screams from the cells around her at a prison in New York.
White, who spent four years in solitary, said many other incarcerated individuals lost their grip on reality after months or years of isolation. One woman used her teeth to self-mutilate; another smeared feces along the walls of her cell.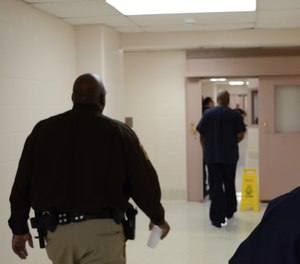 Others screamed.
"Confinement drives a person insane," said White, now the director of community engagement in Virginia for Interfaith Action for Human Rights. "Some people never come back from that."
A bill that would enact a series of solitary confinement reforms is heading to Gov. Glenn Youngkin's desk after approval in the General Assembly — but prison reform advocates say it's missing some crucial components. The final version didn't place any restrictions on how long a prisoner can remain in solitary. Some believe the bill is still a step in the right direction. Others argue that, without the time limit, it's largely meaningless.
"I was hoping to see the commonwealth truly show humanity for the people they incarcerate," said White, whose organization was among those lobbying to reform solitary confinement in the state. "Without a day limit on the amount of time someone can be in solitary, they have failed to do that."
Differing versions of the bill had included a 15-day limit per each 60-day cycle, with some exceptions. But that provision was nixed after Attorney General Jason Miyares' office weighed in.
Virginia Beach Republican Del. Glenn Davis previously told The Virginian-Pilot the attorney general feared that if any needed exception was accidentally left out, it could open the state to lawsuits.
In a statement, Miyares spokesperson Victoria LaCivita said the Virginia Department of Corrections shared concerns about the 15-day limit to the attorney general's office.
"The Virginia Department of Corrections, our client, raised concerns about the unintended consequences of the original bill and we worked with Delegate Davis to resolve those legal concerns on behalf of our client," she wrote. "VDOC had significant security-related considerations for holding an inmate in restorative housing, and those concerns do not necessarily dissipate within 15 days."
Davis introduced the bill in the House of Delegates, with support from House Minority Leader Don Scott of Portsmouth. Sen. Joseph Morrissey, D- Richmond, carried the measure in the Senate.
Kim Bobo, executive director of Virginia Interfaith Center for Public Policy, said the Richmond-based nonprofit will continue to push for a 15-day limit. But she said the group appreciates legislators' efforts this year.
"This is the first time that the General Assembly has given any guidance on solitary confinement, so while it doesn't go as far as we would like, it is still a very significant and important first step," she said.
The bill would require every person in prison to be offered a minimum of four hours out of their cell per day. It would allow for some exceptions, including situations in which the person was deemed a threat to others.
It further requires that anyone going into solitary first receive a medical and mental health evaluation. On a weekly basis, the Virginia Department of Corrections would need to review the situation and record in writing why a less restrictive setting could not suffice.
It also directs the department to establish a publicly released policy about how it would help someone transition back into the general population.
But Vishal Agraharkar, senior staff attorney with the American Civil Liberties Union of Virginia, said there will be no way of knowing whether the department of corrections implements the changes.
"There is no enforcement mechanism in the bill," he said.
Another bill from Sen. Dave Marsden would have created an oversight committee with several state legislators and private citizens to monitor the department of corrections. The committee would have appointed an ombudsman to conduct inspections and handle concerns from prisoners, family members or the department's employees.
The bill passed the Senate and the House Public Safety committee with unanimous support before Republicans on the House Appropriations Committee unexpectedly tabled it.
Without oversight, Agraharkar said, the solitary confinement bill has no teeth.
"Our view is that no agency can oversee itself but that's essentially what VDOC gets to do here," he said. "I think it's wishful thinking to think this bill will end solitary confinement or significantly reform it."
The ACLU is calling on the governor to amend the bill to include oversight and limits on the length of time and reasons why a person can be placed in solitary, Agraharkar added.
Youngkin spokesperson Macaulay Porter declined Tuesday to share the governor's thoughts on the bill.
"The legislation is in the bill review process," she wrote.
Virginia isn't the only state weighing changes to solitary confinement.
State legislatures nationwide are moving toward restricting the practice, said Jessica Sandoval, director for Unlock the Box, a national advocacy campaign aimed at ending solitary confinement.
Since 2009, lawmakers have introduced 920 bills across 46 states to end or limit the practice, she said.
"The trendline is pretty incredible," she said. "I think people are seeing this as a barbaric practice and want to see it become a relic of the past."
©2023 The Virginian-Pilot.
Visit pilotonline.com.
Distributed by Tribune Content Agency, LLC.
McClatchy-Tribune News Service